So much has happened in 2021, and as is tradition, we've summed up our whole year for you! (You can also take a trip back in time and read 2020, 2019, 2018 and 2017).
Currently reading: 2021: The Lyrical Host Year In Review
Click To Tweet
January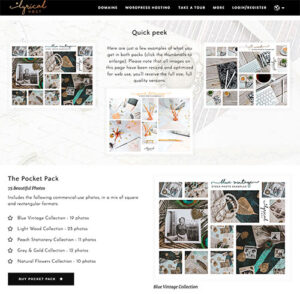 In January we launched two bumper pretty flatlay stock photo packs! Packed with photos we shot in-house ourselves, they're affordably priced for bloggers and can be used commercially too.
We loved seeing the social media and blog post images and even physical planners that people created with them! (You can still buy the flatlay photo packs, and if you're an affiliate there's commission available too!).
We also added free Canva templates to the Resource Library, Karen hosted a Facebook group residency for us on the basics of technical SEO techniques, and we published advice on creating a blogging schedule that actually works for you plus 7 cheap and free ways to create landing pages.
February
In February we updated our map to reflect all the different countries we have Lyrical Host customers in. It's amazing to see the growth!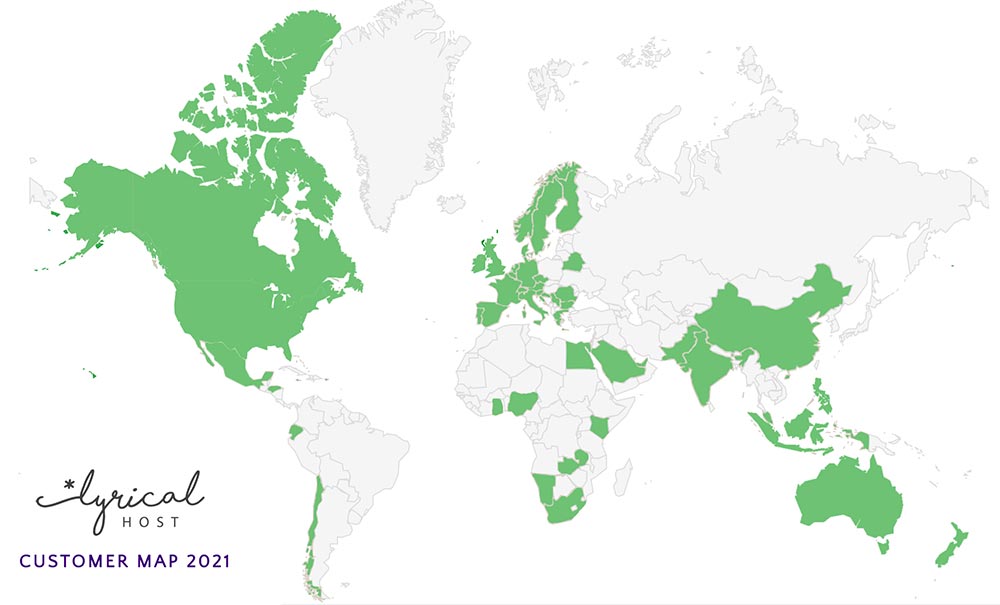 We also added lots of new Pinterest pin templates to the Resource Library, Tanya hosted a Residency in our Facebook group on Mindset, and we published tips on Instagram growth and how to beat the four main types of spam.
March
In March, Michelle hosted a Residency on Digital Art, and we published two blog posts on Core Web Vitals: what bloggers need to know and how much time to spend optimizing. We also updated our speed course, Speed Boost, to include CWV information.
April
Bunnybot, host of our Easter Egg Hunt, bounced back to collect the eggs from eager hunters! Our virtual Easter egg hunt is one of the highlights of our year, and 2021 was no exception. It was also a tough time for a lot of people, so it was lovely to see we were able to distract people and create a little joy!
I had so much fun looking for Easter Eggs on the @lyricalhost website today! It's silly but it's really lifted my spirits 🐰🐣🥚

— Em 🌿 (@earthlyemblog) April 3, 2021
We also created an in-depth Theme Change Checklist for the Resource Library, I hosted a Residency on the topic of Core Web Vitals, and we published two new posts: 10 WordPress Plugins You Don't Need and The Most Common Site Speed Mistakes Blogger Make.
May
In May we ran a little contest – guessing the number of support ticket replies Joe, our co-founder, had done to this point (the answers was over 92,000!). We had all kinds of guesses, but the winner was surprisingly close!
Paula hosted this month's Residency on Using Canva For Your Blog & Business, and we wrote about reducing your digital carbon footprint and how to track your blog stats (including how to use the numbers).
June
We released a new ebook, Navigating Keyword Research. Based on a module in our flagship course, Navigating SEO, it's packed with info on everything you need to know about picking the right keywords for your posts and pages.
June also saw the return of our VA Giveaway. This is where we buy up a bunch of hours from our customers who are freelancers and virtual assistants, and run a giveaway to gift them to other customers in need of help. It takes a ton of organizing, but it really helps out a whole lot of people so it's incredibly rewarding.
On the blog, Lyrical Host bloggers provided tips for dealing with burnout and easy ways to give back through your blog or business.
July
In July our customer Facebook group, the Lyrical Host Blog & Business Squad, celebrated its third birthday and we sent some lucky contest winners their choice of cake to celebrate!
I hosted a group Residency on Keyword Research, and we created a complete roundup of alllllll our site speed resources in addition to listing 7 quick tips for increasing affiliate conversions.
August
August was a big month as Lyrical Host turned four years old! Heading into our fifth year in a pandemic, we're incredibly grateful for everyone's support and honored to be able to continue our work planting trees and supporting education for girls in Mozambique. Check out our Causes We Support page for more info!
Happy #DayOfTheGirl! You've advanced gender equality by sponsoring the education of 250 girls! YES, after tallying up our sponsorships & donations, we're thrilled to share that every girl in our program has been sponsored for the 2022 school year! 🎉 #IStandForGirls pic.twitter.com/70KYpLeWiL

— K U R A N D Z A (@lovekurandza) October 11, 2021
Jenna hosted a Residency on Making Money Beyond Your Blog and we talked openly about price changes and how we're using the money, plus common mistakes to avoid when you're scheduling social media posts.
September
After all the birthday celebrations, September was a quieter momth! We added an Affiliate Promotion Guide to the Resource Library, Yvonne hosted a Residency on Dealing With Online Negativity, plus we published a guide (and extra resources for customers) on How To Easily Manage Multiple WordPress Blogs.
October & November
In October and November we welcomed more full-time in-house employees to the team! Plus Etinosa hosted a Pinterest-themed Residency in our Facebook group, followed by Sasha-Shae whose subject was Branding.
November was also a big month for resources as we had not one, but two big Black Friday bundles! All customers had a free collection of resoures hit their inbox (which have since been added to the Resource Library), plus they could upgrade to a premium version for more goodies.
We added tips on how to reduce your website's web space and bandwidth use to the blog along with a roundup of some lovely free WooCommerce themes.
December
In December, we ran a "Win Your Wishlist" contest where the lucky winners had their Christmas lists bought for them. We ended up buying a whole list of things for a new puppy in Australia, which was very fun! (Also, we can't not give a shoutout to the person whose wishlist consisted of a lot of different lifesize Tom Hiddleston cutouts!)
We added a content planning guide to the Resource Library and published blog posts on Lyrical Host customers' bucket list destinations (we can dream of travel, right?!) and how to manage a blog alongside a full time job.
How was your year? Let us know in the comments!