It's been a busy old year here at Lyrical HQ, and with an avalanche more of things scheduled for 2019, we decided to take a break from future plans and look back at the last twelve months.
2018 was our first full year as a company, and we did a mix of things to build on our initial services, add more value for existing customers, and reward loyalty by launching our own in-house affiliate program.
(Psst…we did this last year, too! Check out A Look Back At Lyrical Host's 2017)
Currently reading: Lyrical Host's 2018 Year In Review
Click To Tweet
In addition to all the things listed below, we sent out exclusive stock photos every month, added brand new exclusive blogging resources to the Resource Library, wrote dozens of blog posts and support articles, hundreds of social media posts, and answered dozens of support tickets on a daily basis. Whew! It's been a busy one 😀 Here's a rundown of what else was going on…
January
January is typically the time of year hosting companies increase their prices, so we bucked the trend. Not only did we not increase any prices (and we won't be next January either!), we upgraded all hosting plans free of charge! Tiny and Mighty plans got more bandwidth, while Boss plans got the ability to host an extra two websites.
We also teamed up with some great other women-owned small businesses to launch a Biz Lift Off Bundle containing free resources for the new year.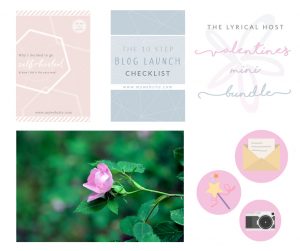 February
February is typically a grey month (at least in the UK!) so we injected some color by adding a mini Valentine's Day bundle of Pinterest pin templates, stock photos, and icons to the customer Resource Library (if you're a customer, you can still download it from there).
We also launched our YouTube channel, which has plenty of tips and tricks for bloggers, plus embeddable videos about us for affiliates.
March
In March we ran an Easter Egg Hunt competition, powered by a chatbot! Hunters searched our website to find colored eggs, and Bunnybot was on hand to take their submissions robot-style. (Bunnybot will be back for 2019!)
April
April saw the launch of our Instagram channel. We also added new domain extensions for sale – .yoga .tech .store .shop and .club. If there are any domains you'd like us to sell, just let us know and we'll see what we can do!
May
We launched our long-awaited affiliate program in May, along with plenty of done-for-you resources to make life easier. We now have literally hundreds of amazing affiliates who have earned a ton of commission!
On a less fun note, May was the month everyone was discussing GDPR, so we created a GDPR guide for bloggers alongside working on our own compliance.
June
In June we launched a brand new service, Theme Perfection. Since launching the service, we've worked on perfecting dozens of websites…some of them completely free of charge!


July
One of the most important launches this year was that of our Facebook group, the Lyrical Host Blog & Business Squad. The best thing about running our company is the customers, because they're an incredible bunch of people and make us want to do more every day. As part of the group launch we added a collection of free downloads only accessible from the group, plus an interactive adventure story, a Shop the Group page for listing members' items, and lots more.
August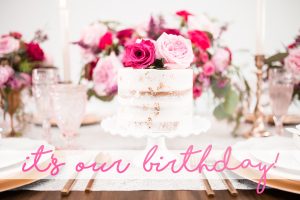 The beginning of the month saw us run a fun productivity challenge in our Facebook group, which ended with our first Twitter chat.
The end of August saw our first birthday celebrations! We ran another bunch of free upgrades on our plans, plus increased affiliate commission for a month, and started planting real-life trees to celebrate customer anniversaries (or anniversa-trees as they're now known).
September
We launched our limited edition Birthday Blogging Bundle! This was our first paid bundle, and we offered a "pay what you like" price starting at $5, with orders over a certain price having 20% going to charity. We asked our group members for causes close to their hearts, and finally narrowed it down to Valerie's House and Women's Aid, two incredible organizations we were proud to help.
October
For Halloween we ran a contest here on the blog that ended up with over 10,000 entries (what?!), and ran a really fun branding challenge over in our Facebook group.
November
Again, we did something different to everyone else on Black Friday by planting trees for everyone who signed up or upgraded a plan during this time. We also did a random resource lucky dip for affiliates and their referrals! Over in the Facebook group, we ran a Tools challenge for people to review their tools before Black Friday sales. On the main Lyrical Host site, we added a Causes We Support page.
December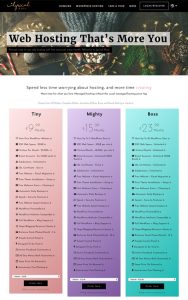 This month we've given the homepage a mini makeover by updating the list of what we provide, integrating a brand new currency switcher, and adding testimonials from our wonderful customers.
We also ran a completely virtual Secret Santa in the Lyrical Host Blog & Business Squad, and released a limited edition resource bundle, available for all new and existing customers until 31st January 2019!
As well as wrapping up the year, we've also been planning a bunch of new services and tools just for bloggers, so we're excited to go into 2019 with new fresh things for you…including super secret things you won't be able to find anywhere else!
How did your year go? Let us know in the comments!