Lyrical Host's first year has been a whirlwind of activity. We've gained amazing customers, created tons of lovely things, and supported independent creatives all over the world. Here's a quick run down of our highlights and achievements in our first year.
The Lyrical Host Prelaunch
Back in August we nervously set up our prelaunch campaign – and were quickly overwhelmed by the response! Not only did people sign up, they were really positive about our brand and ideas. It was so motivational for us to see that people shared our vision and saw a need for what we were doing.
Fun fact: Over 640 people signed up to be notified of our launch!
Launching Lyrical Host
The prelaunch went so well we were much more confident about the main launch, but we were still a mix of nerves and excitement! If you've ever made a website live or sent a launch email, you'll know how the smallest task of all – hitting the big button – feels like the biggest.
Happily, we had a lot of people supporting us and everything went really well! After launch, we continued to refine our processes and add new things, including more currency options, secure credit/debit card payments, this blog, new website pages, and the launch of our social channels.
We also secured our office base; generally our staff work remotely, but it's nice to have a home amongst other great tech startups. Our office is cleverly cooled using technology incorporated in the surrounding buildings, so it's super environmentally friendly!
Fun fact: Within six weeks of launching, we had customers in four different continents. This is what our world map looks like now: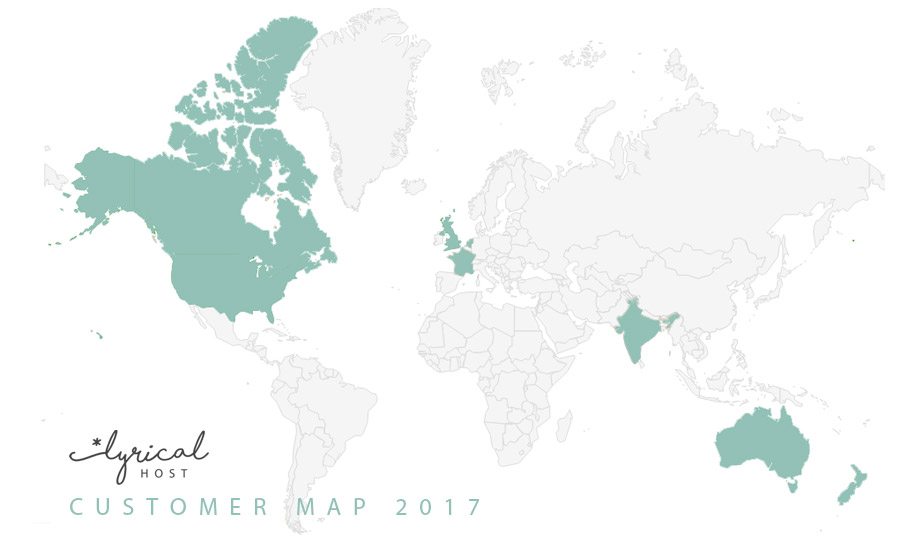 Community
We've worked with, hired, and commissioned so many great people all over the world to provide tech support, beautiful stock photos, and awesome downloadable resources. We've spent a lot of time chatting with amazingly talented and interesting people, and we're looking forward to working with many more next year!
One of our main 2018 focuses is community, and in 2017 we started sowing the seeds by launching our Twitter, Facebook, and Pinterest channels. We sent over a thousand messages in less than six months, and we always encourage people to chat to us about their websites and projects. We've helped with everything from brainstorming potential domain names to plugin recommendations. And we love sharing your blog posts on Twitter.
Fun fact: So far, we've tweeted 340 times.
The Lyrical Host Blog
One of my personal favourite highlights was the launch of the Lyrical Host blog. I've been blogging since 2001, and blogging combines three key things I love: writing, creating, and helping.
Our first blog post is still one of our most read: we covered a bit of background as to who we are and where we came from in The Story So Far.
The post we reference the most is probably 40 Elegantly Feminine Free WordPress Themes, which is our go-to link whenever we have someone move to us from Blogger or WordPress.com.
Fun fact: Our most popular post was 21 Websites To Download Culturally Diverse Stock Photos, with close to a thousand views!
Holiday Celebrations
Holiday discounts are huge in the hosting industry, but we wanted to celebrate all our customers, not just do offers for new ones. So instead we came up with ways everyone could get involved. We gave away a Creative Market giftcard for Halloween, a big bundle of free resources for Black Friday, and ran a spin the wheel Christmas contest.
We also celebrated the birthdays and significant dates of various women throughout history, from computer scientists to authors, with memorial Facebook posts.
Fun fact: We had over 1,000 entries in our Halloween and Christmas contests!
Supporting Great Causes
As a company, one of the biggest missions is to give back and make an impact in the world by supporting amazing causes. Each month, some of your spend goes towards supporting great causes, and in 2017 we chose Kurandza's #IStandForGirls campaign, which funds education for girls in Mozambique. School supplies and hot meals are something we take for granted, but for many children they're still a dream. Lyrical Host customers are helping to make that dream come true and create better lives as a result.
Every month, some of your spend with us goes directly towards education for girls in Mozambique in the #IStandForGirls Campaign. Here's a recap of the latest news from @lovekurandza ? https://t.co/Uj84ZrLhdi pic.twitter.com/IezqTBwvhi

— Lyrical Host (@lyricalhost) December 21, 2017
In December, we also donated to Basic Needs as part of our spin the wheel contest. Basic Needs is one of the few international mental health charities out there, and the work they do is vital, especially in less developed countries.
We're always happy to take suggestions, so if there's a charity or non-profit that's close to your heart, please drop us a Facebook message or tweet and we'll add it to our list.
Fun fact: Our next good cause goal is to plant trees to offset carbon emissions.
What we're looking forward to in 2018
We have so many exciting things coming up next year, from gorgeous free resources to brand new products and community activities! More details will be announced in our customer newsletters. And of course, our brand new affiliate program is set to launch in just weeks!
How was your 2017? Have you blogged about it? If so, drop your link in the comments!