Body positivity covers a whole range of different things: weight, height, alopecia, scarring, unique facial features, birthmarks, and much more. There's one aspect that links them all together though, and that's celebrating the human body in all its forms.
We know that you appreciate being able to represent that in your own content, which is why we've put together a list of some of the best sources of free and paid stock photos celebrating body positivity.
Currently reading: 21 Body Positive Stock Photo Websites (Free & Paid)
Click To Tweet
As a blogger or business owner, you often don't realize how much of a role model you can be for people. You can genuinely bring a smile to someone's face or enhance a reader's self-esteem using these images in a positive and accepting way, and showing there's so much more than just one "normal."
Now more than ever it's a time to celebrate how different and unique we all are, and in using these images on your website you can highlight the human body in its most natural and beautiful forms; there really is so much variation in how we look, and that's not always represented online as well as it could be!
If you love stock photos, don't forget to check out our other posts in this series: Free & Paid Websites To Download Culturally Diverse Stock Photos and LGBT+ Stock Photo Websites (Fee & Paid)
Before we get started, some housekeeping:
Don't forget to check the licensing, usage, and attribution requirements before using images from stock photo websites; even images from the same site can have different restrictions.
When using free photo websites, try to trace the photo back to the original photographer where possible, as some photographers have their work stolen and added to free sites without their knowledge.
Please be respectful and mindful of the context you use these photos in, especially when using recognizable photos of people.
Side note – If you're using stock photos on your website, don't forget to optimize them first!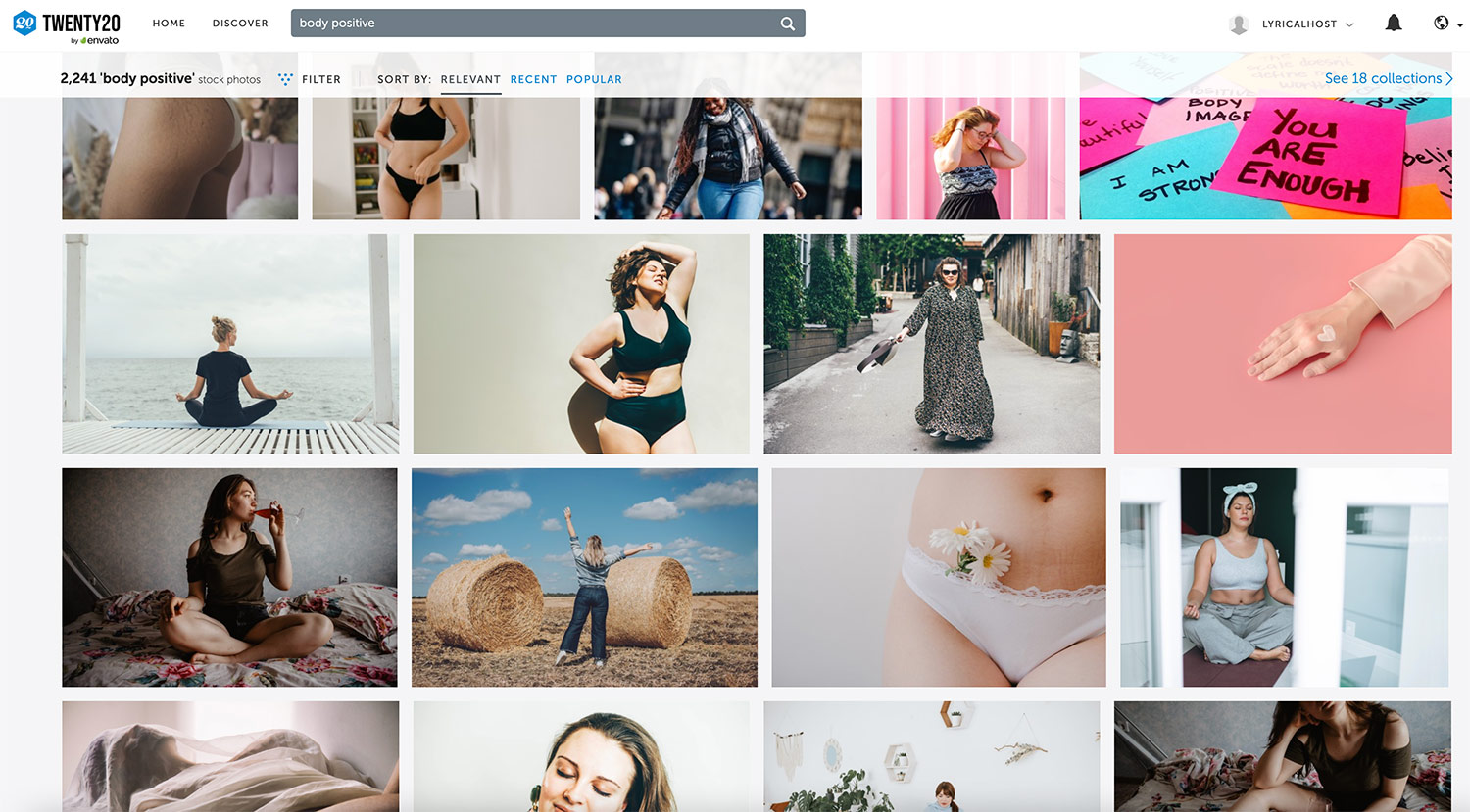 Twenty20
Tell me more: Access to a variety of diverse, body-positive, inclusive, disability, images and in general they provide a great search engine, they require a subscription service from $16.50 per month, however, this means access to multiple photos!
Free or paid? Paid, from $16.50 per month
Website: Twenty20.com
---
AllGo
Tell me more: Changing up the selection of imagery from sites such as gettyimages. AllGo provide a wonderful selection of free enthusiastic body positivity, accessible for all uses, formats, and featuring plus-size people.
Free or paid? Free.
Website: CanWeAllGo.com
---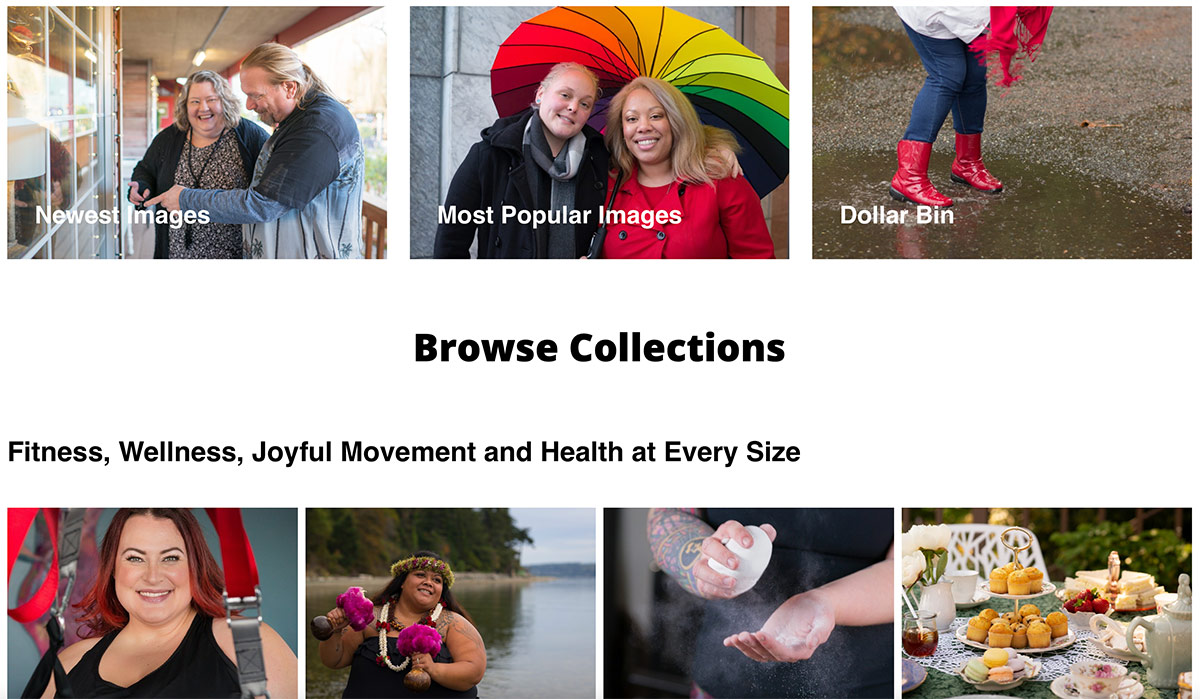 Body Liberation
Tell me more: Beautiful site that provides a variety of inclusive diverse stock photos and photoshoots in the Seattle area, to access free stock photos all you need is to sign up for their newsletter. There's also a credit points system, where you purchase credits and these can be used to license images.
Free or paid? Free & Paid Credit points.
Website: BodyLiberationPhotos.com
---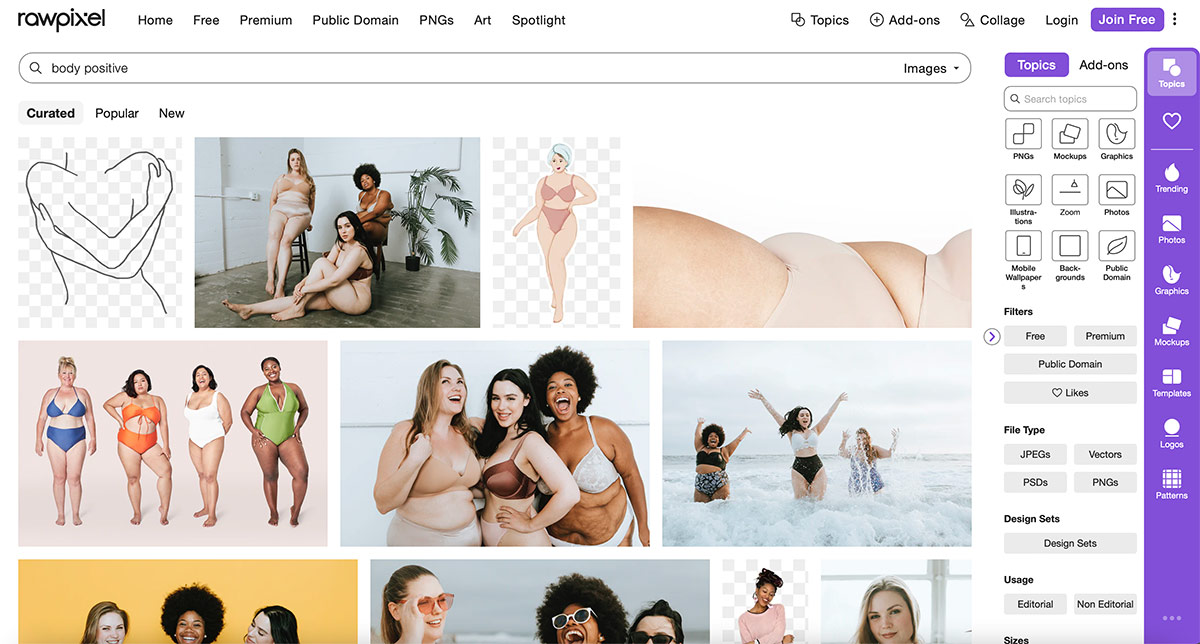 Rawpixel
Tell me more: Body positive photos & illustrations/vectors, great search options for different formats, mock-ups, file types, and sizes. If you use a lot of photos or graphic resources in general, Rawpixel is great for free resources.
Free or paid? Varying from free to $9 a month.
Website: RawPixel.com
---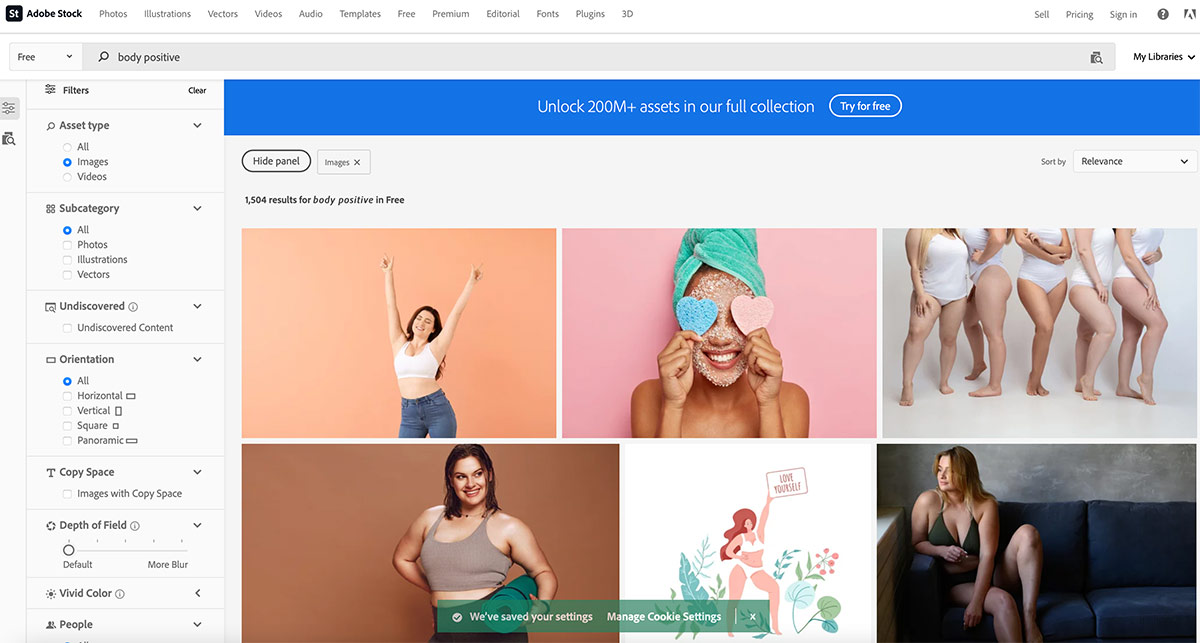 Adobe Stock
Tell me more: Hundreds of stock photos, many of which cover themes such as woman/male body positivity and diversity inclusion, it's a huge database of various images you're able to access for free and paid images for as little as $1 per image.
Free or paid? Free & paid
Website: stock.adobe.com
---
Canvas Natural Women Collection
Tell me more: Canva has a 'Natural Women Collection' with a lovely assortment of images available, this is great for those of you who work with Canva and want a natural feel to your posts.
Free or paid? Free
Website: Canva.com
---
Icons8 – Mega Creator App
Tell me more: Icons8 provides an editing app called Mega Creator that allows you to create beautiful well put together vector images. It allows you to use multiple filters to find specifically the type of person you're looking for to include in your edits, this can be great for creating colorful, vector blog posts.
Free or paid? Free. One photo for $5.00 or a subscription for $13.00 a month
Website: Icons8.com
---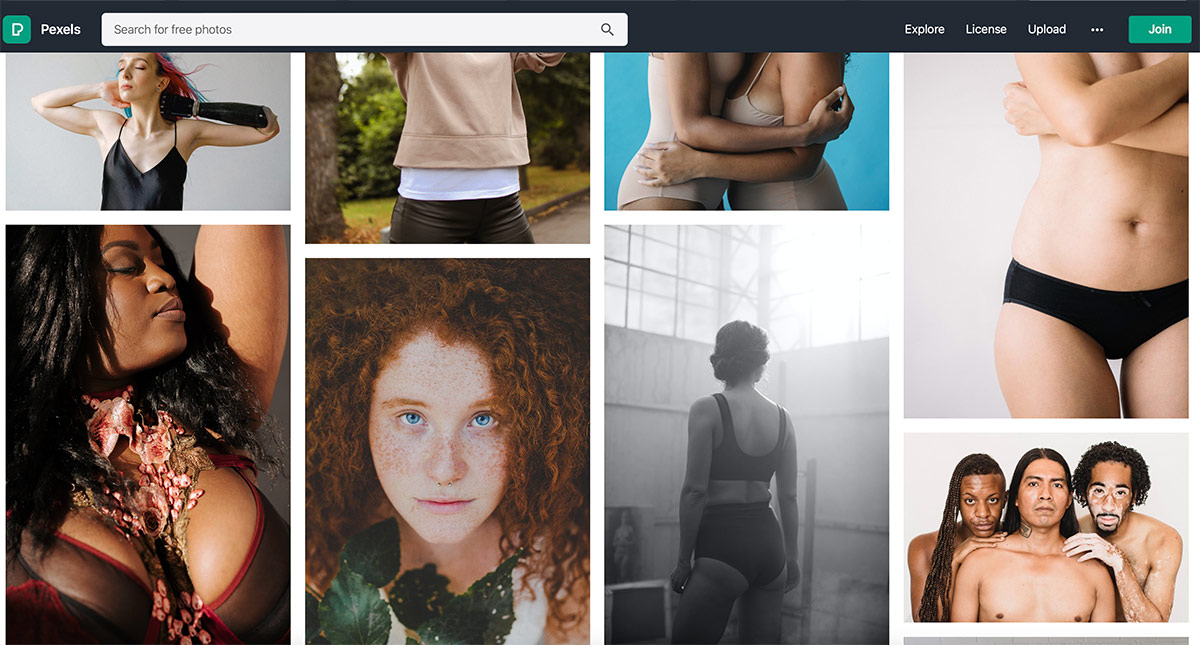 Pexels
Tell me more: This platform provides an amazing variety of diverse, inclusive, cultural, and body-positive photos making sure to include various angles, empowering images, and close up shots. All Pexel images are free to use!
Free or paid? Free.
Website: Pexels.com
---
Photo Stock Editor
Tell me more: A vast variety of body-positive, acceptance and skin tones, great value for the quality of photos you can use, All free photos on the site are public domain and free for commercial use. Paid options for higher resolution from as little as $2.50.
Free or paid? Free & Paid, Prices from $2.50 a photo.
Website: PhotoStockEditor.com
---
IStock
Tell me more: Collection of beautifully diverse and inclusive photos, illustrations, videos, and content, Paid options for higher resolution from as little as $2.50.
Free or paid? Paid, Prices from $2.50 a photo.
Website: istockphoto.com
---
Crello
Tell me more: A selection of images with an abundance of free and paid options to choose from. The search bar provides an option to include/exclude people which is a great feature if you aren't looking for a body inclusive positive post and would prefer something more text focused.
Free or paid? Free & Paid. $10.00 a month.
Website: Crello.com
---
Unsplash
Tell me more: Lovely selection of gorgeous natural photos with close-ups of body positive and acceptance images, the best part is the majority of these are free and high resolution. There are however links to other premium sites within Unsplash, which do charge a fee of $2.50 + per photo.
Free or paid? Free High Resolution.
Website: Unsplash.com
---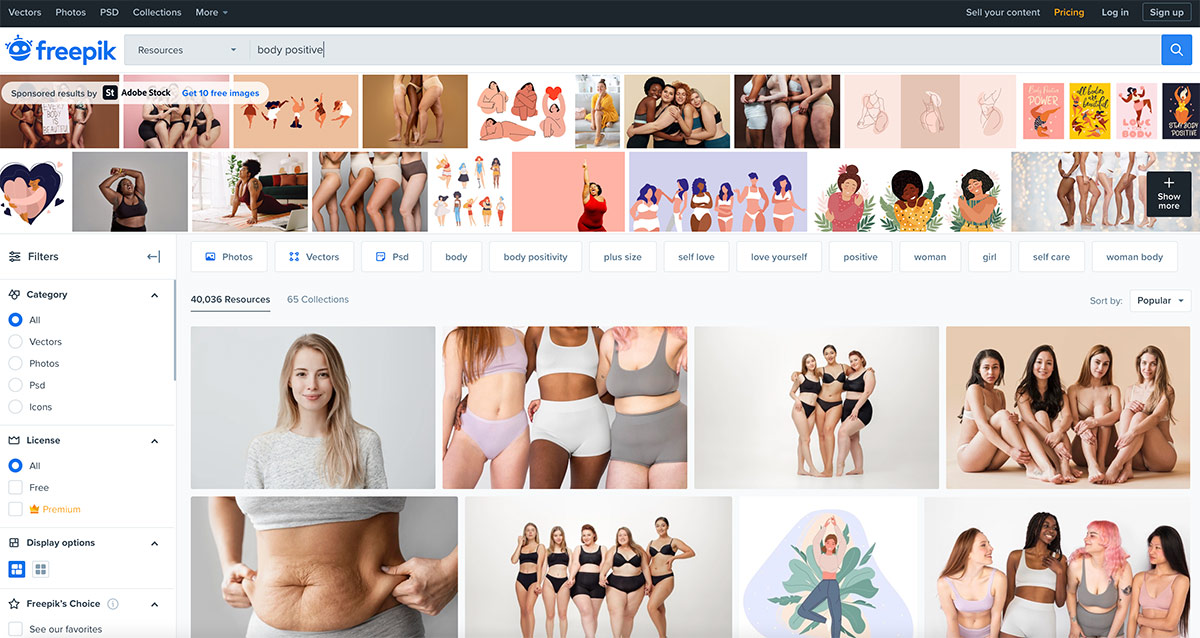 FreePik
Tell me more: Various body acceptance and positive images are all accessible for free. They do require you to post an attribution link, or alternatively, you can access over 20 million resources without attributing for $7.50 a month.
Free or paid? Free & Paid. $7.50 Monthly.
Website: freekpik.com
---
Burst
Tell me more: A really lovely selection of normal men and women, all free content just make sure are crediting the photographer or artists, alternatively, you can download these and contribute to the site.
Free or paid? Free & Paid. $7.50 Monthly.
Website: burst.com
---

Scopio
Tell me more: This site gives you access to a brilliant selection including different skin tones and textures, body shapes, and cultural and inclusive content, they use a subscription service for $29.99 a month, with access to 45 photos each month, which works out at $0.66 per photo.
Free or paid? Paid. $29.99 Monthly.
Website: scopio.com
---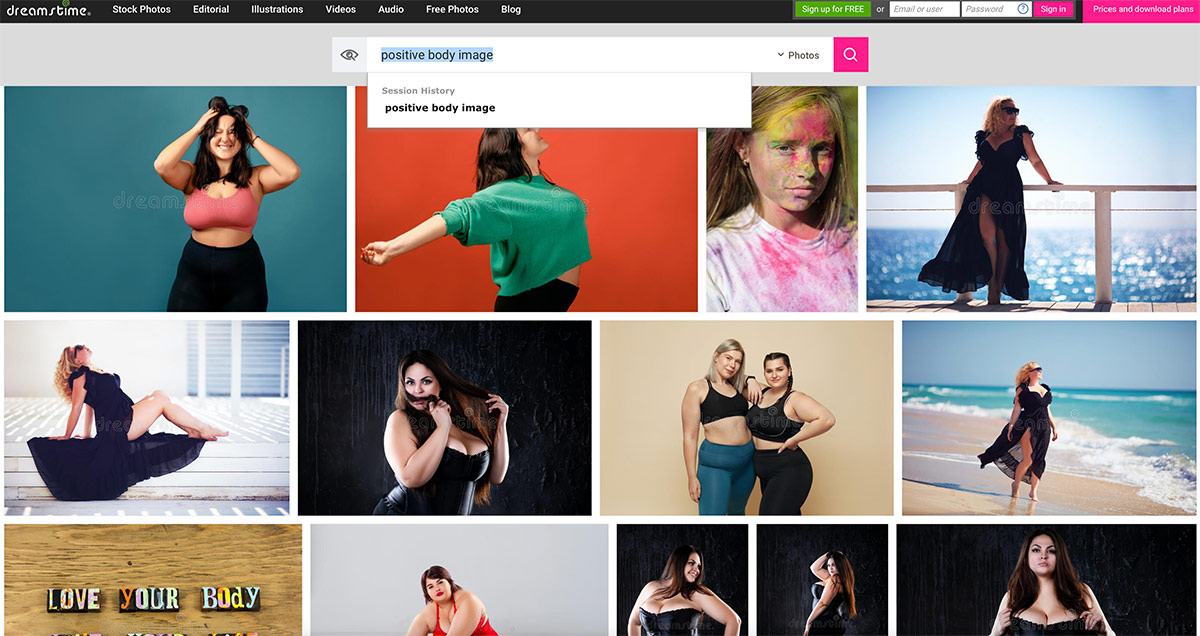 Dreamstime
Tell me more: There are plenty of gorgeous options to provide you with photos that would be perfect body inclusivity for your content, they provide a free option when you sign up with the site, and the first 15 photos are free.
Free or paid? Free & Paid. $15+ Monthly.
Website: dreamstime.com
---
TONL
Tell me more: TONL is a fantastic site focusing on culturally beautiful imagery, this is mainly focused on ensuring diversity is at the heart of what they do, with pricing starting from $29.99 for 15 photos.
Free or paid? Free & Paid. $29+ Monthly.
Website: tonl.co
---
Nappy
Tell me more: Cultural, Diverse, and lovely inclusive images, all their images are free due to being a part of the Creative Commons Attribute. The images are also high resolution, all the factors considered are to help improve the representation of black and brown people in media.
Free or paid? Free
Website: nappy.co
---

Affect The Verb
Tell me more: A small collection of disability body-positive stock photos and illustrations. The "Disability and Here" collection is covered under Creative Commons Attribution which means you can use, share, and adapt the images for free with appropriate credit.
Free or paid? Free
Website: affecttheverb.com
---
Ivory Mix
Tell me more: A collection of body-positive stock photos in neutral themes and lifestyle layouts, also featuring tattoos and yoga! These images range from $2 + per image.
Free or paid? $2+ per image
Website: ivorymix.com
---
If you found this post useful, please pin it for someone else to discover!