It wasn't too long ago that stock photos featuring people of different ethnicities were extremely hard to come by. Happily, there are more diverse stock photo collections and websites popping up on a regular basis, covering a huge range of nationalities, skin tones, and ethnic backgrounds across ages and genders.
So we've put together a list of our favorite paid and free websites to download stock photos featuring men and women of color. Whether you're looking for African-American, Hispanic, Asian, or any other culture or race, you're sure to find exactly what you need from one of these websites.
(As a quick note, please remember to check the image licensing for any photo you wish to use, as licenses vary by site and are subject to change at any time).
Currently reading: 24 Websites To Download Culturally Diverse Stock Photos
Click To Tweet
On with the photos!

01. Nappy.co
Nappy specializes in "beautiful, high-res photos of black and brown people"…and what's even better is that they're free!
02. Iwaria
Iwaria specializes in African imagery, which includes landscapes and cultures as well as people. We've linked directly to the People category, which features free photos of men and women in a huge range of settings, from sitting at computers to working out at the gym.
03. Mocha Stock
Mocha Stock is a fantastic website that has the added bonus of illustrations and videos as well as photos. You can choose to buy a membership or pay as you go with credits.
04. Brwn Stock Imaging
Brwn Stock Imaging features beautiful, positive photos in a range of settings and collections starting at $25 and up.
05. Create Her Stock
Create Her Stock is extremely affordable at just $7 a month, which gives you access to over 1000 images with more added regularly. There are also some free images available for you to download.
06. Color U Bold
Color U Bold has a great collection of pretty images in bright, stylish settings.
07. Women in Tech
Women in Tech began as a project to bring together free-to-use photos of women of color in tech.
08. Picnoi
For just $49.99 you can download all the photos Picnoi has to offer with all the new additions emailed to you for a year after. They have fantastic photos covering a wide range of settings and sizes.
09. Unsplash Collections
Unsplash has a lot of great user-created collections like this one by Addie Fisher so you can access relevant groups of free photos easily instead of having to browse manually yourself.
10. Tonl
"Diversity leads to innovation" is the motto of Tonl, a beautiful membership-based stock photo resource where you can pay per photo or download a set number of images every month depending on the membership level you choose.
11. Get Color Stock
Get Color Stock helpfully has photos divided into different collections so you can find groups of relevant photos easily. Cost is per image, and you can even pay to retire images from the catalog if you want to make your images more exclusive.
12. Haute Stock
Haute Stock is famous for its stylish, feminine images, and there are women of color featured among the flatlay photos too.
13. SC Stockshop
SC Stockshop is one of the more expensive options in this list, but it's a good choice if you're looking for top quality photos.
14. Envato Stock
Envato Stock's search is super powerful, so you can enter relevant keywords to search for images of people from all different cultures and ethnic backgrounds. Prices start from $29/month for unlimited membership.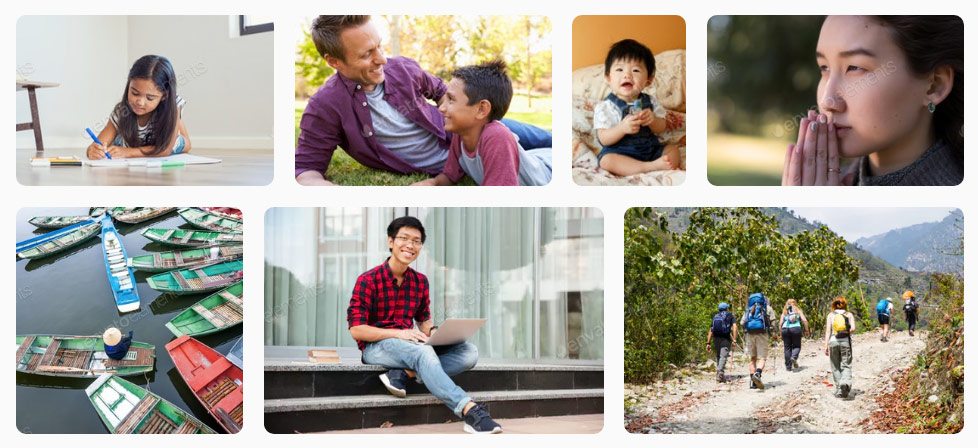 15. Blend Images
Blend Images offers bright, professional photos in both free and paid collections.
16. Jopwell
Jopwell puts a different twist on stock photos by offering them in the categories of students, interns, offices, professionals, and workplace photos.
17. Adobe Stock
A more expensive alternative to Envato's stock membership, Adobe Stock also has a great range of results for photos by ethnicity. Here's an example of our search for Hispanic photos.
18. Stocksy
Stocksy covers a diverse range of ethnicities. Even searching for something as simple as 'women' returns an impressive range of results.
19. UK Black Tech
UK Black Tech has a bunch of great stock photos you can download with all kinds of ages and settings represented. Best of all, they're free!
20. Diversity Photos
Diversity Photos is a less well-known stock photography website, but it has a great representation of culturally diverse photos at reasonable prices.
21. iStockPhoto
One of the great things about iStockPhoto is that simply searching for 'women' returns a broad range of photos celebrating different ethnicities. iStockPhoto works on a cost per image basis, where prices vary depending on the image itself and the size you want to download it at.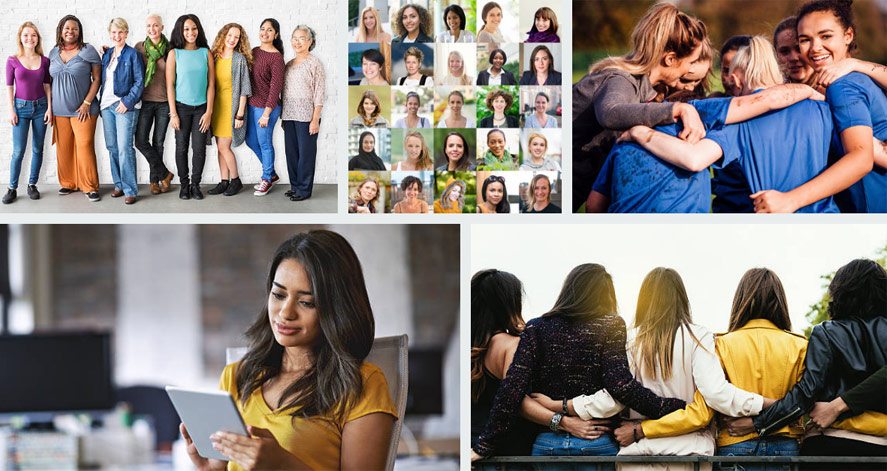 22. Raw Pixel
Raw Pixel has a wide variety of photos featuring people from all over the world, so you're sure to find an image that fits your needs.
23. She Bold
For lovely women of color photos with a feminine twist, you can't go wrong with She Bold. You can buy photos individually, purchase an affordable membership, or subscribe for free images in your inbox.
24. Eye for Ebony
Eye for Ebony features beautifully warm styled stock photos. Subscribing to the newsletter bags you beautiful free photos too!
Did we miss your favorite website? Let us know in the comments!
Pin for later: