One of our most popular posts is our list of culturally diverse stock photo websites, and since we published it we got a bunch of requests for more lists.
A lot of hours went into finding the best resources for this post, as sadly it's still surprisingly difficult to find very many websites that have a strong variety of gay, lesbian, bisexual, transgender, androdgynous, non-binary, and other sexuality and gender-themed stock photos. But, that makes having a post that pulls all the major sources together even more important.
Currently reading: 15 LGBT+ Stock Photo Websites (Free & Paid)
Click To Tweet
The websites we've selected have a whole bunch of stock photo styles to choose from, and as a bonus, the majority represent a variety of races and backgrounds too. There are both paid and free websites listed, and some websites have a freemium model or certain photos you can download for free.
Before we get started, some housekeeping:
Don't forget to check the licensing, usage, and attribution requirements before using images from stock photo websites; even images from the same site can have different restrictions.
When using free photo websites, try to trace the photo back to the original photographer where possible, as some photographers have their work stolen and added to free sites without their knowledge.
Please be respectful and mindful of the context you use these photos in, especially when using recognizable photos of people.
And now for the websites!

---
The Gender Spectrum Collection

Tell me more: One of the most widely acclaimed and written-about sources for transgender stock photos, The Gender Spectrum Collection is a considered and important resource developed by Vice.com. You can learn a lot more about the project and the people behind it on their website.

Free or paid? Free.

Website: https://genderphotos.vice.com
---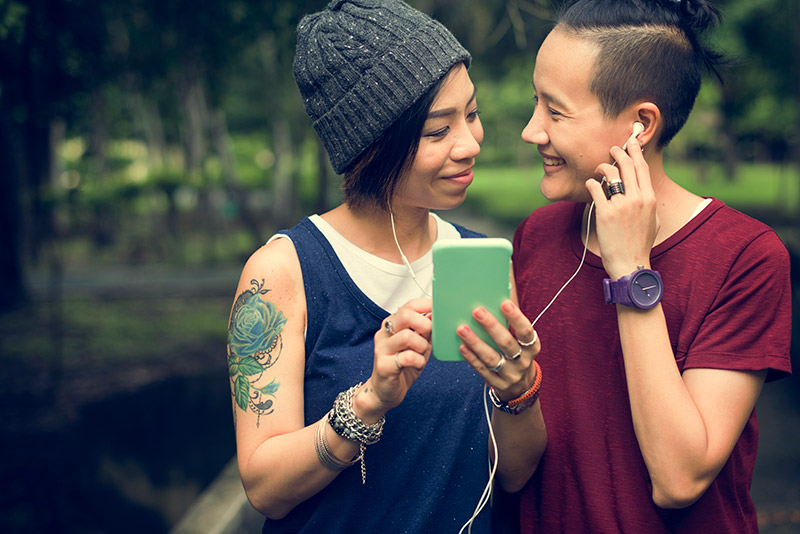 Envato Elements

Tell me more: Envato Elements is a broad subscription service covering everything from WordPress themes to hand-drawn illustrations. They also have hundreds of thousands of stock photos, many of which cover themes such as lesbian and gay families and transgender couples. If you use a lot of photos or graphic resources in general, Envato Elements is great value for money.

Free or paid? Paid, subscription.

Website: https://elements.envato.com
---
Flickr Creative Commons

Tell me more: On Flickr you can search specifically for photos that have a Creative Commons license, so couple that setting with a good keyword and you'll have lots of photos to choose from. Flag photos and marches are particularly abundant.

Free or paid? Free, double check licensing use and attribution requirements.

Search the website: https://www.flickr.com/search/?text=LGBT&license=10&view_all=1
---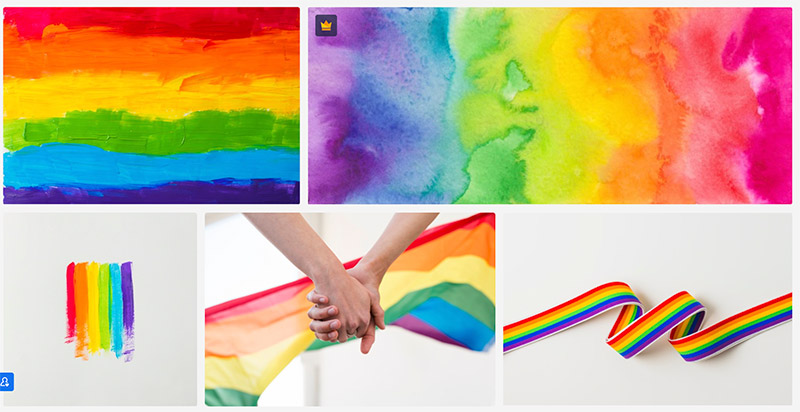 Freepik

Tell me more: Lots of bright rainbow-themed photos and other images, although the quality of the items can sometimes be a little variable!

Free or paid? Attribution is required for free use. Premium photos are marked with a crown.

Search the website: https://www.freepik.com/search?dates=any&format=search&page=1&query=lgbt&sort=popular&type=photo
---
Pexels

Tell me more: A wide variety of photos to choose from; we recommend playing with your keywords to get the best results.

Free or paid? Free.

Search the website: Three searches worth checking out: https://www.pexels.com/search/pride/ and https://www.pexels.com/search/transgender/ and https://www.pexels.com/search/Gay%20Pride/
---
Adobe Stock

Tell me more: Adobe is one of the most respected names in the digital photo world, and the images and illustrations they have oon offer are great for premium projects.

Free or paid? Paid, although their free trial lets you download ten free images.

Search the website: https://stock.adobe.com/uk/search?load_type=search&native_visual_search=&similar_content_id=&is_recent_search=&search_type=autosuggest&k=lgbt&acp=0&aco=lgbt
---
Unsplash

Tell me more: Unsplash is a good source of free photographs; just check you can trace the photos back to a genuine original photographer, and read their terms carefully as they have some specifics around using recognizable photos of people.

Free or paid? Free, check usage terms and Unsplash terms before downloading.

Search the website: https://unsplash.com/s/photos/pride
---
Pixabay

Tell me more: A solid website for free LGBTQ+ stock photos, although you'll want to be able to trace photos back to the original photographer.

Free or paid? Free, check usage terms and Pixabay terms before downloading.

Website: https://pixabay.com/photos/search/lgbt/
---
Wikimedia

Tell me more: Creative Commons photos from the creators of Wikipedia. There are lots of categories to browse, and many of the photos are very natural looking (as opposed to professional stock photos).

Free or paid? Free; attribution usually required.

Website: https://commons.wikimedia.org/wiki/Category:LGBT
---
Affect The Verb

Tell me more: Affect The Verb goes one step further by specializing in LGBT photos featuring disabled people. Be sure to read their page on how the photos should be used respectfully!

Free or paid? Free, check terms before use.

Website: https://affecttheverb.com/collection/#lgbtq
---
iStockPhoto

Tell me more: iStockPhoto is one of the most expensive websites on this list, but it's a good place to find just the right photo if you're prepared to drop money on a per-photo basis.

Free or paid? Paid, premium pricing.

Search the website: https://www.istockphoto.com/gb/photos/transgender?mediatype=photography&phrase=transgender&sort=best
---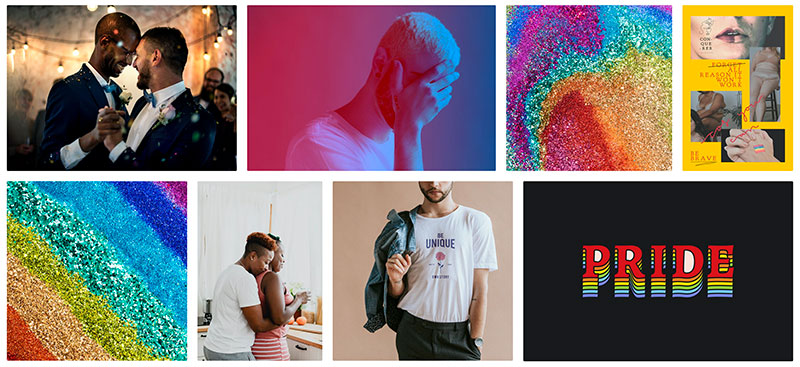 Rawpixel

Tell me more: Rawpixel has a decent choice, although there are lots of premium photo rows to dodge!

Free or paid? You can sort photos by free, premium, and public domain – most are paid.

Website: https://www.rawpixel.com/search/gay?sort=curated&page=1
---
Twenty20

Tell me more: An Envato-related website, Twenty20 has a bunch more queer and transgender photos for you to look through.

Free or paid? You may have access to these photos for free if you have an Envato Elements subscription. If not, paid!

Website: Two collections you won't want to miss: https://www.twenty20.com/photos/c9c88421-85b4-46f9-b027-94c94717bf54/?utm_t20_channel=bl and https://www.twenty20.com/collections/46d7ce41-21e4-4153-b709-e5b5239ed4ed
---
Alamy

Tell me more: Lots of professional photos, so worth browsing! Especially good for gay pride photos.

Free or paid? Paid, premium.

Website: https://www.alamy.com/stock-photo/gay-pride.html
---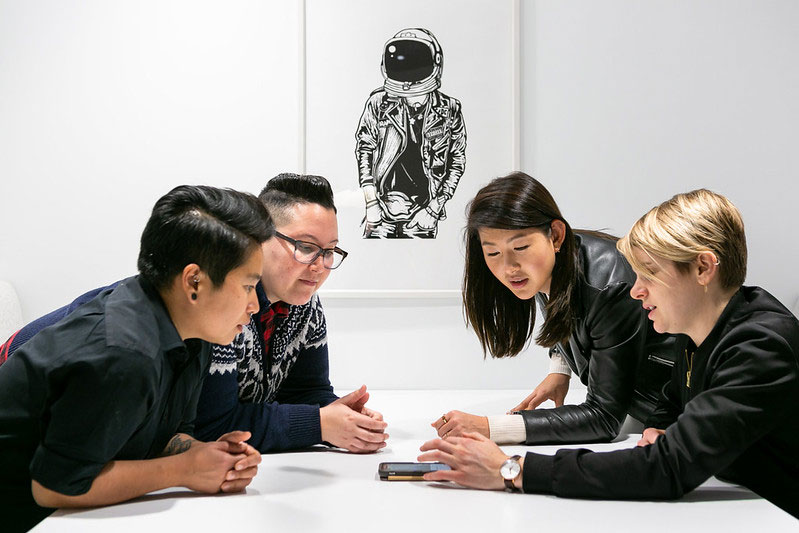 Queer in Tech by Mapbox

Tell me more: Another great stock photo project from people who are passionate about what they do. The folk over at Mapbox were inspired by the Women of Color in Tech project to create their own Queer In Tech stock photo collection.

Free or paid? Free, attribution required.

Website: https://blog.mapbox.com/queer-in-tech-free-stock-photos-from-mapbox-87aba2e7c7da
---
Know someone else who'd love to come across this post? Pin it on Pinterest: