Optimizing your blog so it ranks well in search engines is one of the best ways to drive traffic. Done well and with a bit of luck, it can be a pretty consistent and scalable method for getting traffic to your website…and it's easier than constantly posting on social networks!
Currently reading: SEO For Bloggers: A Beginner's Guide
Click To Tweet
This post looks at a quick overview of what you need to know about getting started with SEO for your own website. For more details on how to action the information below, including step-by-step guides, templates, a complete SEO dictionary, and over 100 text-based lessons, check out
Navigating SEO
.
Quick Jump Links:
Initial Checks
Keywords
On-Page Optimization
User Experience
SEO-Friendly Content
Link Building
Tracking, Auditing & Analyzing
Initial Checks
Create a strong foundation for your blog by checking/performing these actions before you do anything else!
  Make sure you're using a good host 😉 It should be reliable, have strong support, and include full SSD web space and gzip compression (ask your host if you're not sure).
  Install Google Analytics and Google Search Console if you don't already have them. Google Analytics will help you track organic traffic to your website, while Google Search Console will help you check for errors and penalties and see the keywords sending you traffic.
  Install and activate an SEO plugin such as Yoast or Rankmath (both free). You only need one SEO plugin for on-page optimization, otherwise it will cause problems!
  Submit a sitemap through Google Search Console. This will help search engines find your posts and pages and understand your website structure. Many SEO plugins have a wizard to help you generate a file, which you can submit in Google Search Console. A sitemap helps your website get indexed (listed) in search engines, but appearing in the top results for your chosen keywords (ranking well), is where SEO comes in. There are often thousands, if not millions, of websites wanting to rank for the same terms as you, and only ten spots on page one!
  Check your website on mobile. Visit your website using your phone, and preferably your tablet, and familiarize yourself with what the experience is like. Is your blog easy to browse? Does it load in good time? Are there any areas where elements are confusing, missing, difficult to see, or not styled well? If so you'll want to make a snag list so you can make improvements for your visitors.
  Check your WordPress settings; there may be some changes you need to make.
Keywords
Doing keyword research is essential; everything that follows will build off of your keyword choices.
Keywords are the words people enter into search engines to get a list of results. Including keywords in your post and page content in a natural way helps you please search engines and show what your page is about without detracting from your visitors' experience. Choose a primary keyword to focus on and 2-3 secondary keywords to feature on your post or page.
The biggest mistake people make is guessing their keywords rather than researching them. The problem with guessing your keywords is that your keywords often end up being overly competitive, or not searched at all. Even if your keywords sound logical to you, Google may be returning results on a completely different topic/industry that uses the same words, or people may just not be using those words in large numbers.
The best way to find great keywords is by using a keyword research tool such as Ubersuggest (free but not always very accurate) and Keywords Everywhere and Keysearch are budget-friendly paid options.
You're looking for keywords with a good search volume, meaning a lot of people are searching for them, and low to medium competition, meaning you won't be competing against super high authority websites. The keywords should also be relevant to your topic, for example you don't want to target "free stock photos" if your blog post just includes paid ones.
Pin for later (blog post continues below!):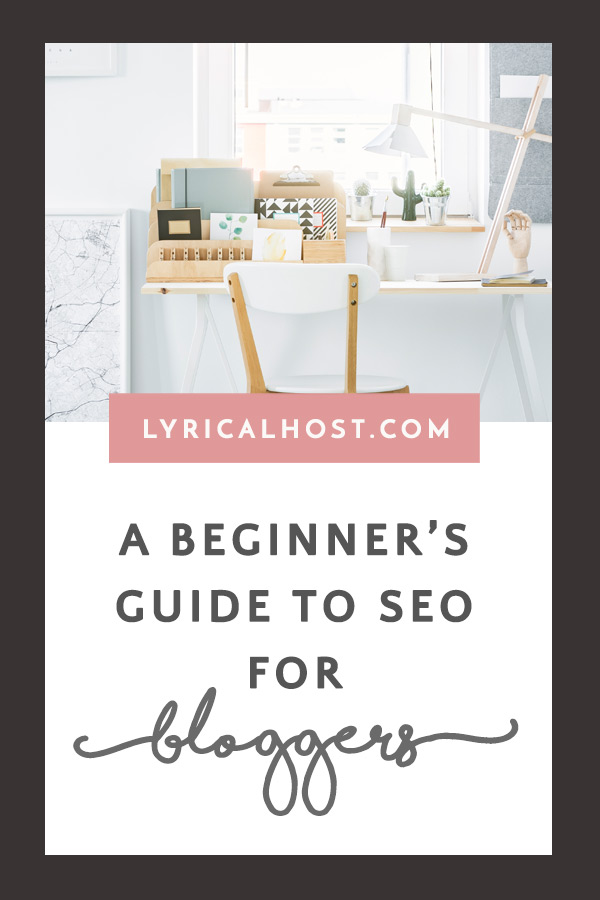 On-Page Optimization
Boost your rankings by carefully formatting posts and pages for search engines.
This covers everything you have control of on your posts and pages, for example:
Your post/page title – The text that appears in visitor's browser tabs and the wording of the link that appears for your page in search engines. In WordPress, this is something you can set in the WordPress post editor if you have an SEO plugin installed, or you can simply use the regular "Title" field at the top of the editor.
Meta description – This can be added using code or via your WordPress post editor if you have an SEO plugin installed. A meta description is the snippet of text displayed underneath the title and URL in search engines. For more information, see How To Write A Great Meta Description.
Headings (<h1> to <h6>) – These should contain your primary and secondary keywords but still read naturally to humans.
Content formatting features – For improving ease of reading and user experience, such as tables of contents, comparison tables, FAQs etc.
Images – Including size, name, and title. Each image should have an ALT description written primarily for visually impaired users to understand what the image is about, but that also incorporates your keywords where relevant.
Internal and external links – External links should be to relevant, trustworthy websites, and tagged with the correct rel= attribute as needed. Internal links should be to related posts and pages your reader is likely to find useful.
Schema – This is code used to mark up specific bits of content to tell Google how it should be categorized. For example, if you're writing a recipe post you can use schema to display the steps and a thumbnail which can appear directly in Google's results. Schema can be used for a range of different content types, including FAQs, events, music, reviews, and many more. WordPress users have plenty of schema plugins available for their use, and there are also various recipe-specific plugins that include schema settings.
Search engines can't read video or audio content in the same way they can read text, so these will need transcripts to count towards your SEO. A bonus is that adding transcripts is also better for accessibility.
If you have a WordPress blog, a free SEO plugin such as Yoast, All In One SEO Pack or Rankmath, can help you identify areas for potential on-page improvements right from your WordPress editor. Remember that these are just automated tools with rough guidelines, their scores don't directly affect (or necessarily reflect) your actual search rankings, and they aren't always right – use your best judgement.
User Experience
Happy visitors are good for SEO!
User experience, also known as "UX", is basically how someone feels while browsing your website. Is it something they enjoy, or is it frustrating? This boils down to things like can they find the information they're looking for? Are they hit with excessive ads or pop ups? Do your website pages load in good time? Is your website easy to navigate?
These kinds of factors all add up to create an overall impression for your visitor, even if it's a subconscious one for them. It can affect whether they decide to return, recommend you to other people, share your website on social media, see you as an authority, or choose your site again in future when they see it in search results.
Google measures this by assessing things like dwell time. If someone clicks through to your website and then bounces back to the search results quickly, this indicates that they may not have found what they wanted or expected, and therefore your site isn't a good result for that term. Over time, this can lead to your rankings decreasing (or increasing, if you have a lot of people stick around on your site).
User experience is a whole specialism on its own, but here are some quick pointers:
  Check your website is easy to navigate – Nothing important should be more than three clicks away.
  Test the speed of your blog using a good speed testing tool (not Page Speed Insights!) to check it's not too slow (here are some tips for testing and optimizing your speed).
  Ask a friend what they think – Ask someone (ideally not technical, and with cleared cookies) to browse your website as a regular user would and give you honest feedback.
  Review your text and colors – Make sure your line lengths are short, spacing is good, fonts are easy to read, font sizes are on the large side, and paragraphs aren't too long. You'll also want to have good contrast for your colors, for example black text on a white background.
  Assess non-content features – If you have ads, pop ups, subscribe forms, or similar, how overwhelming are they? Do people have to close or scroll past a ton of things in order to get to your content?
Handy tools for assessing and improving UX: Google Analytics (in particular time on page and number of pages viewed), HotJar, Lucky Orange, Crazy Egg, UserTesting, WebPageTest.
SEO-Friendly Content
Take your posts and pages to the next level for better rankings.
Google and other search engines find text much easier to read and assess than other content types. As mentioned above, if you're adding video or audio, try to include a transcript or notes in text form. Your images should always have descriptive ALT text and be well-optimized (ideally under 100KB in size).
When you create content, you always want to be thinking about three things:
Length – There's no "right" word count; think Goldilocks instead. By this we mean that the ideal page isn't too long or too short – it's just right. However many words you need to get your point across is the number you should go with; if you find yourself struggling with what to say or adding padding or repeating yourself, you may want to expand your subject a bit further. A travel guide may run to thousands of words, whereas a list post may be quite short. However, you want to include enough words that search engine understand the subject and purpose of your page; many people believe that a minimum of 300 words is needed for this.
Quality – Your content should be interesting, useful, and/or provide a new angle or perspective on a topic. For this reason, it's best to think quality first rather than trying to stick to a time-based schedule such as publishing new posts on Mondays. If a post isn't ready or has just been thrown together, it's best to spend some extra time on it instead of just rushing it out anyway. Your visitors and the search engines will thank you!
Authority – How are you indicating you're in a good position to write about the topics you do? Why do people trust you and want to read what you have to say? This could include things like incorporating your past experience, qualifications, pieces on other websites, media quotes, brand partnerships, and similar. It's particularly important to show you're an authority if you're writing about health or money.
Your website content is also likely to be seen as more authoritative if it's unique or tagged as the original (aka "canonical") source. While duplicate content doesn't actively hurt your SEO, it can mean fewer pages get indexed or more of your pages are dropped from search engines, as they prefer unique results.
If you have a lot of old posts and pages, it's worth gradually working through them and updating them. Set yourself a target and a recurring calendar task so it's not as overwhelming.
Handy Tools: Grammarly, Google Docs or Microsoft Word, Otter.ai, TinyJPG, and Copyscape.
Link Building
Getting good backlinks will help you beat the competition.
When people refer to "off-page optimization," they're often referring to link building. Link building is the art of getting other websites to link to your website (links within your own pages don't count as link building, although a good internal linking strategy still helps you to show search engines which pages on your site you consider most important).
Links to your website from other sites (aka "backlinks"), especially if they're follow (also known as "dofollow") links, count as "votes" for your site. Good links, i.e. links from trusted and relevant websites, will help you rank better in search engines as your site is considered better and more trustworthy the more high-quality, relevant links you have.
Backlinks are essential for ranking well for highly competitive keywords. Great content, no matter how optimized your pages are, will only get you so far if there are hundreds or thousands of websites that also have great content and well-optimized pages.
There are hundreds of different ways you can get backlinks to your blog, but some of the most popular are guest posting, taking part in roundups, and commenting. Comment links are quick to do – just leave a comment with your URL on another blog in your niche – but they are nofollow links, which means they're less valuable for your site than follow links. However, they do increase your Domain Authority score, which is a Moz metric (not a Google metric!).
For more link building ideas, information on what makes a good link, and traps to avoid, check out our link building module in Navigating SEO.
Tracking, Auditing & Reviewing
If you don't track it, you don't improve it!
Many bloggers skip over auditing and analyzing their results, but it's one of the best things you can do to see what's working. Keeping track of what's going well, what isn't, and identifying quick wins, can help you grow and rank much faster than bloggers who just guess with their content and get random lucky spikes.
The best free tools for this are Google Analytics and Google Search Console. Take a look at what keywords people are using to find your site and what position your site is in, then work on optimizing and link building to help them improve. Identifying the most popular topics helps you create follow up and related content easily. Eventually you'll create an on-going flow of well-optimized content that search engines and visitors love.
Some well-known SEO tools offer a lot of information even on their free accounts, so you can gain a lot of useful information from them that Google's tools don't provide. SEMRush's site audit is great, Ubersuggest is a good free all-rounder, and Moz's Link Explorer is useful for reviewing backlinks. Ahrefs also has some great insights.
You can create automated reports to be sent to you using Google Analytics, or you can create a tracking spreadsheet template for your own use. We'd recommend reviewing your stats and progress at least once a month so you can plan ahead for future changes, experiments, and new content you want to create.
There's a lot more to SEO than the things we've covered here, but this post should give you a lot to think about, and actioning the information above will give you a strong foundation for your content and link building efforts. Enjoy, and good luck!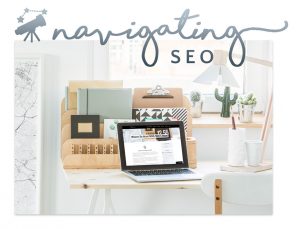 Want to learn more about SEO?
If you liked this post, you'll love Navigating SEO! Navigating SEO is a comprehensive text-based course with over 100 lessons, 15 downloads, and plenty of tasks to help you stay on track. It's designed for bloggers and digital business owners, is very budget-friendly, and you get lifetime, evergreen access. Plus, you can start any time!
Learn more about Navigating SEO