Writing a great meta description involves both art and science, and in this blog post we cover everything you need to know about what you should include, traps to avoid, and how to go about writing and adding meta descriptions to your website.
What is a meta description and why is it important?
A meta description is the short block of text that appears under the title and web address of a website in search results. You can set this yourself (although search engines can override it by pulling other text from your page instead if they want to) so that people who may click through to your page get an idea of what it's about.


Your meta description should be under 160 characters, preferably around 130-150, and be an accurate and interesting account of the page you're describing. Meta descriptions used to be used by Google as a significant search engine ranking factor, but because they were too easy to exploit by website owners, they're now only relevant to search engine optimization for Google in indirect ways (e.g. bounce rate and time on site, both of which are used to make an educated guess on how relevant/good your content is).
However, meta descriptions are still important, for the above reasons and also to persuade people to click through to your website from the search results. Although many searchers scan results without reading meta descriptions in any detail, a good meta description can help you establish authority and even persuade someone to choose your site over a higher ranked one.
Currently reading: How To Write A Great Meta Description
Click To Tweet
Secrets of a great meta description
Write for the reader, not the search engine
Start by writing as if you're telling your ideal reader to do something. Use keywords and related phrases from your title and topic if you can fit them in, but don't worry about forcing them if they don't fit naturally.
Begin with a call to action
A call to action is a phrase starting with a verb that instructs your reader to do something. For example, 'Learn all about the art of writing meta descriptions', 'Take a look at our beautiful bath products', 'Shop purple bunnies'.
Keep the purpose of a meta description in mind
A meta description helps convince a potential visitor to click through to your site from search engine results. When writing one, think about what would persuade you to click through to a website, and what would convince you that the resulting web page is what you're looking for.
Be succinct but not mechanical
Don't aim to cram as many selling points as possible into your meta description, otherwise it just becomes a stilted list. Instead, stick to one or two main ideas and flesh them out a little. Once you've written out what you want to say, read back over it and look for duplicate points and words you can cut.
Think long term
Although you may want to regularly review the meta descriptions on important pages of your website, e.g. your homepage, it's generally best to write evergreen meta descriptions. Unless it's the whole point of a particular blog post, anything that could date your page or page (for example referring to a sale, specific season, or using transient slang) is generally best avoided.
Make it easy to read
Use short but complete sentences and simple words to make it easy for readers to scan and get the general idea of what to expect from the page they land on.
Accurately reflect what's on the page
If your meta description doesn't match what's on the page, a visitor is going to leave/head back to the search results instantly, killing your time on site figures and increasing your bounce rate. Your meta description should always be accurate and appealing without overpromising.

How to add a meta description to a page or post
If you have a WordPress website with the Yoast plugin installed (see 7 Must-Have Free Plugins For WordPress), you can add your meta description to any page or post in your Dashboard. Go into the page or post you want to add your meta description to, scroll down past the content pane to the Yoast SEO section, and click 'Edit Snippet'.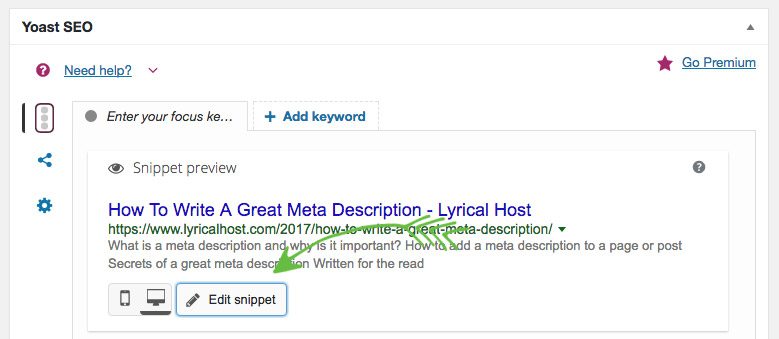 This will expand the pane and show a 'Meta description' box, which is where you can enter your meta description. Once you've finished writing, scroll back up to the top of the page to save your draft or publish your post as normal.
Examples of good meta descriptions
A few real-life examples of meta descriptions to inspire you.
Starts with a call to action, uses adjectives to appeal to the reader, uses brand name for authority.

Starts with a call to action, in line with company brand values of luxury and quality, includes age for authority.
Starts with a call to action, uses lists to suggest breadth of content, has a 'something for everyone' approach.

And that's about it! What's your approach to writing meta descriptions? What do you find challenging about them? Let us know in the comments!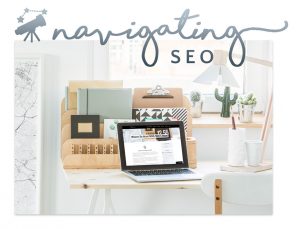 Want to learn more about SEO?
If you liked this post, you'll love Navigating SEO! Navigating SEO is a comprehensive text-based course with over 100 lessons, 15 downloads, and plenty of tasks to help you stay on track. It's designed for bloggers and digital business owners, is very budget-friendly, and you get lifetime, evergreen access. Plus, you can start any time!
Learn more about Navigating SEO
Pin for later: