An SSL certificate is vital for your website if you collect any kind of information from your visitors. This could be as simple as their name and email address, or as involved as their payment details and address. An SSL certificate ensures your visitors have a secure, encrypted connection when browsing your website and a third party can't intercept any details they provide you with.
In the browser, a website's SSL certificate is depicted with a padlock to the left of the address bar, and the website address starting https:// instead of http://. They're good for all types of websites, not just ecommerce websites, and search engines may penalize your site's rankings if you don't have one. You can find out more about SSL certificates and their benefits on our Free SSL Certificates page.

A lot of web hosts charge for SSL certificates, but the good news is that they're free (for life!) at Lyrical Host. It doesn't matter which hosting plan you have with us, and your SSL certificate is tied to your hosting plan rather than your domain name, so you can still take advantage of our SSL certificates even if your domain name is with another provider. As a bonus, they work on any subdomains you have, too!
Currently reading: How To Set Up A Free SSL Certificate For Your Website
Click To Tweet
Please read the entirety of this post before you start actioning it so you know what to expect and what you need to do. If you have any problems or questions along the way, please contact our support team and they'll be happy to help.
Installing your free SSL certificate
Setting up an SSL certificate is really easy. Simply log in to your Lyrical Host control panel (if you've never done that before, here's how to create a LyricalCP user), then scroll down to the "Security" section and click the "SSL/TLS" icon: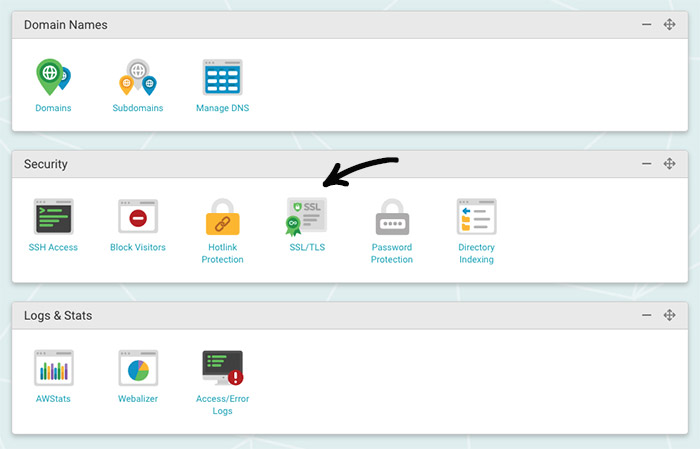 Click "Activate Free SSL," then underneath, click the "Force HTTPS" button:

If you have a WordPress website you will also need to update the "Site Address" and "WordPress Address" in the General Settings section of your WordPress admin dashboard (from http://yoursite.com to https://yoursite.com).
Your SSL certificate will be automatically set up within 30 minutes.
And that's all there is to it!
Important additional steps
Now you've installed your SSL certificate, you need to take some clean up steps to ensure everything is correct.
Redirecting old links
As you've selected "Force HTTPS," you don't need to redirect old links – they'll work automatically.
If you're not confident with tech, please raise a ticket with our support team and they'll check/explain everything for you.

Fixing the 'mixed content' warning
If you get a 'mixed content' warning for your site when viewing it, it's because you still have some internal links within your site that reference http:// instead of https://. If you're installing an SSL certificate on an existing website (i.e. it's not a new one or a fresh WordPress install), you'll want to make sure all your internal resource links, including images are scripts, call https:// instead of http://. You can use Better Search Replace to find and replace http with https easily if you're a WordPress user, and delete the plugin after. Alternatively, our support team can help with those elusive links if you're not comfortable doing it yourself.

Other web properties
In Google Analytics, Google Search Console, Bing Webmaster Tools and similar, you'll need to add a new property with the https:// and https://www. versions of your website. To do this, log in and go to 'Add New Property' and follow the instructions. You don't want to delete your existing properties even after you've done this. This ensures all your traffic, keywords, and site information is recorded accurately in your analytics and tools.

Social share counts
Social share counts can be wiped by installing an SSL certificate, so if that's happened for you, your best bet for keeping them is to install a plugin. There are no guarantees, but you could try Social Warfare or HTTPS Migration Pro (please note these are paid plugins and our links don't equal endorsement).
Congratulations! Your visitors now enjoy secured, encrypted connections when visiting your website 🙂
Further reading:
Pin for later: