Digital products such as workbooks, checklists, ebooks, design resources, and photos can be a great passive income stream for your blog. If you don't want to use a marketplace like Etsy, and you don't need a complete ecommerce store on your website, there's a third option: third party digital delivery services.
Simply upload your files, create links, and add them as text or buttons to your website. The digital delivery service securely handles payment and deliver the files to your visitors when they order. Job done! Different services have different goods, payment, and charges, all of which are explained below in the summaries of each service. Services are listed in no particular order.
Currently reading: 14 Simple Ways To Sell & Deliver Digital Products
Click To Tweet
01. Payhip

Payhip has three payment options. The first is free and includes 100 digital products and two membership plans, however, there is a 5% transaction fee. The standard plan is $29/m for unlimited digital products and membership plans and only a 2% transaction fee. To eliminate the transaction fees you can purchase the professional plan for $99/m. You can embed the membership system on your own website so members can easily log in and manage their accounts. Payhip also handles the EU VAT so you don't have to worry about anything.

02. Gumroad
Gumroad starts at $10/m and transaction fees are 3.5% and 30¢ per sale. With Gumroad you can sell physical or digital products including selling preorders of your products. Gumroad has a widget you can add to your website so that customers can make their purchases without having to leave. You can also add affiliates to help you promote your product.

03. Podia
Podia has two flat pricing options: $39/m or $79/m, with a slight discount when purchased annually. You can sell online courses, digital downloads, and even do email marketing. Both plans include 24/7 support, and there are no transaction fees. The premium plan also includes an affiliate program.

04. SendOwl
Sendowl starts with a basic plan for $9/m and has three more pricing options: $15/m, $24/m or $39/m. With Sendowl you can sell digital products, memberships, and subscriptions. They also offer a drip functionality if you would like to release your product over several weeks. Sendowl also has an inbuilt affiliate system and the ability to offer upsells.

05. Sellfy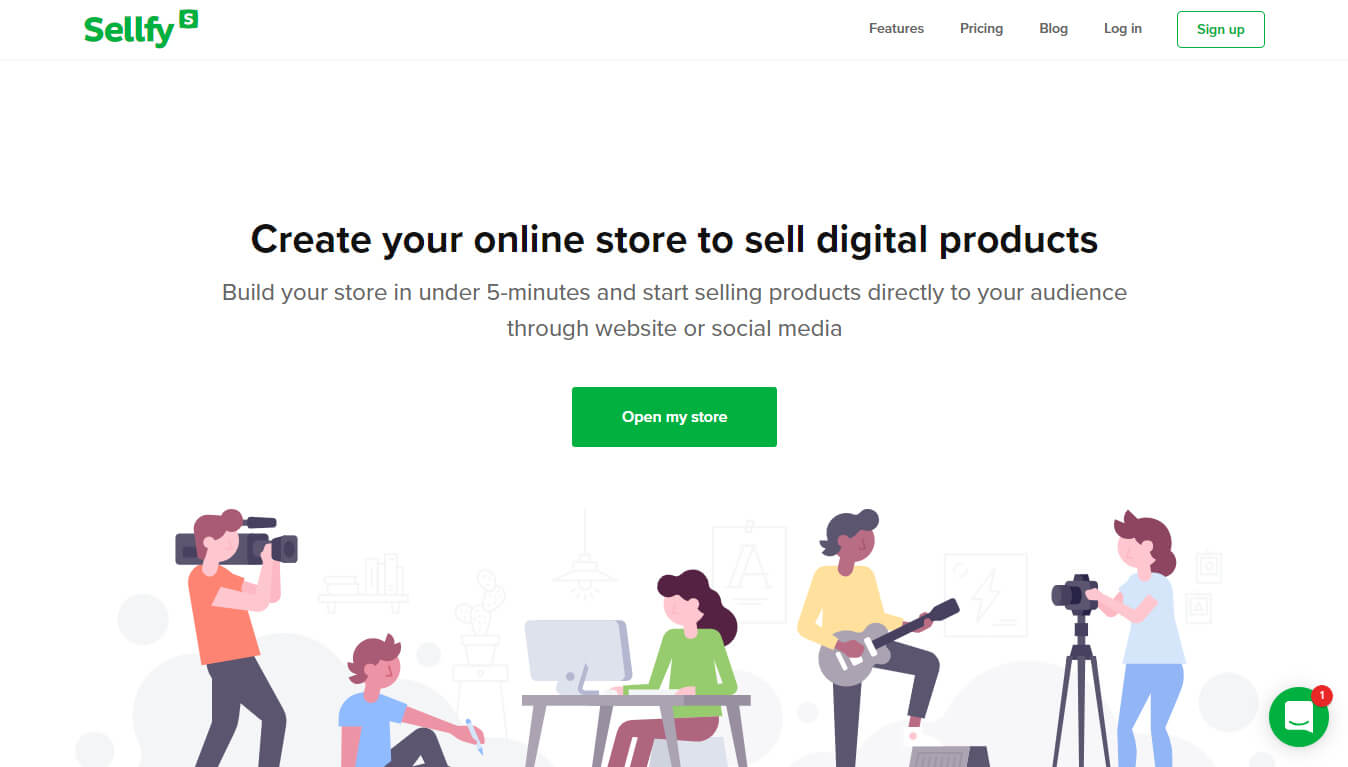 Sellfy has two payment plans: $29/m with a 2% transaction fee and the Pro plan for $99/m with no transaction fees. You don't need a website to sell with Sellfy as they offer a customizable storefront to sell your digital products. You can also sell products on your social media platforms or via YouTube with just a link.

06. Selz
Selz allows you to sell up to five products for free though there is a transaction fee of 2%. The Lite plan is $19/m, the Standard is $29/m, and the Pro is $49/m. You can sell services and physical or digital products. Selz offers a drag and drop online store builder and several free themes that are customizable for your brand. You can also choose to sell via your own website or to create a Facebook store.

07. E-junkie
E-junkie offers solutions to sell digital and physical products. They offer several payment plans starting at $5/m. There are no set-up or transaction fees. E-junkie also offers an affiliate program and you can send promotional freebies to reviewers and friends.

08. PayLoadz
You can sell products such as ebooks, music, movies, digital art, and more through Payloadz for $19.95/m. There is a transaction fee of 2.9% and $0.29 which is billed monthly. You can sell anywhere online from your website to your social media to eBay. Payments from customers will go directly into your PayPal account. Payloadz offers affiliate and reseller programs.

09. Clickbank
Clickbank offers solutions to sell digital products and connect with other digital marketers to help promote your products. There is a one-time product approval fee of $49.95 with a $1 stocking fee per sale.

10. Chec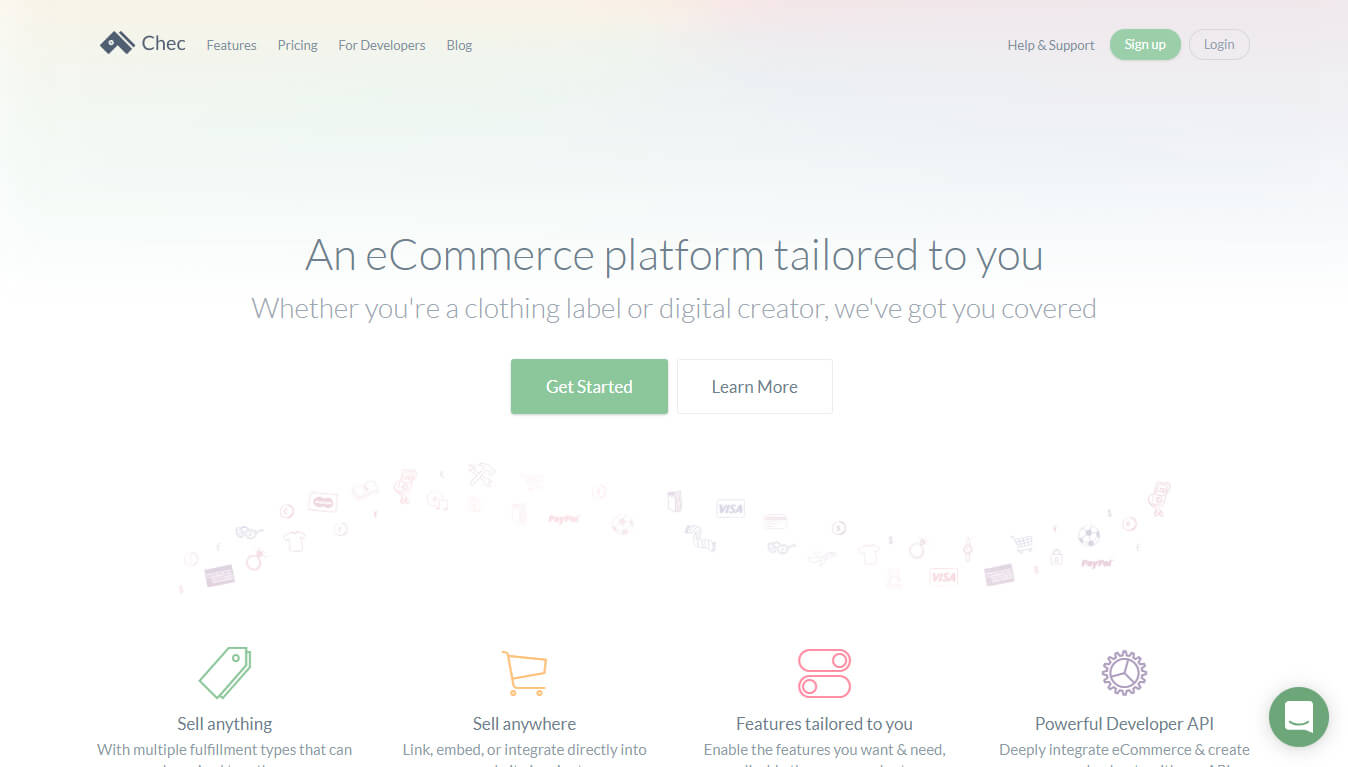 Chec's platform is for digital or physical products. Pricing starts with a free plan that comes with a 3% transaction fee. The transaction fee is 1% at $29/m and 0.5% at $129/m. It does not include payment gateway fees in the payment plans. You can choose to link to your products, embed them on your website, or create a one-page storefront. Chec also offers support for over 24 major currencies.

11. Plasso
Plasso is a sell anything platform. You can sell physical or digital goods, services, accept donations, sell pre-orders and more. The basic payment plan has no monthly fee but includes a 4% Plasso fee. The premium plan is $9/m with a 1% Plasso fee. Pro plans start at $24/m and have no Plasso fee but include a maximum monthly revenue. Plasso offers a free WordPress plugin so you can sell your products right from your own website. They also offer several free WordPress themes.

12. Pulley
Pulley targets artists but you can sell any downloadable product on this platform. Pricing is based on how many products you want to sell starting with 25 products at $6/m. You can sell from your website or social media platforms. Payments will go directly to your PayPal account. You can also customize the emails your customers receive.

13. DPD (Digital Product Delivery)
DPD is a digital publishing platform for ebooks and downloads. Pricing is a flat rate based on the size and the number of products you want to sell. Payment plans are $10/m, $16/m, and $30/m. DPD hosts your products for you and doesn't charge a bandwidth fee. With DPD you can create your own subscriber membership area with the option to drip your content out on set dates. DPD also offers several integrations including, Convertkit, Zapier, Shareasale, and more.

14. Simple Goods
Simple Goods focuses on digital products. They offer a pop-up checkout which you can add to any website or you can choose to use their hosted payment pages. Payment plans start at $0/m for three products with a 3% fee per transaction. All features are included in each plan and a Stripe account is required.
Did we miss one of your favorite digital delivery services? Let us know in the comments.
Pin for later: