This may seem like it's going to be a biased post – after all, it's written by us, a WordPress web host!
But we want to be honest here (that's our thing, and we have a moral code for that).
Here's the reason.
Currently reading: Is WordPress Right For Me?
Click To Tweet
As a small company with zero sales people (yes, really!) and with the majority of our employees part of our support team, we want to make life easier for everybody.
If WordPress isn't the right option for you, all you're going to do is be stressed, frustrated, and probably end up canceling. This isn't the experience you want, and it's not the experience we want either. Our mission is to help people succeed through being part of our community, and people who join us expecting to be able to build a website in half an hour tend to end up pretty disappointed. It's important to us that we have a community that grows stronger together, and people who love their websites.
WordPress is incredibly powerful. There's a reason why it powers nearly a billion websites worldwide, ranging from blogs to stores to forums to portfolios to college sites and more. It's powering this blog post you're reading right now.
But power and flexibility takes a while to pick up and understand. And broadly speaking, there are two types of people: ones who want to learn WordPress and take advantage of what it has to offer, and ones who just want a quick set-and-forget website.
Both of these things are totally fine, but if you fall into the second group, it's likely WordPress isn't for you. At the end of this post, we include a list and infographic of points to help you decide which category you fall into.
I'm not techy, will WordPress be too much for me?
Thousands of customers and websites later, we're confident that there's only one difference between the people who get WordPress and those who don't.
The first type of people stuck through the learning curve.
That's it.
It doesn't matter if technology scares you, or you think you're the least techy person in the world. No one's born knowing any of this stuff; everyone has been new to it at some point, and it's never too late. Even as you're reading this, someone is starting to use WordPress for the first time. We have customers who are finding new hobbies and picking up WordPress in their retirement. There's no shame at all in admitting you're new to something or you don't understand it yet. (See also: You're Not Useless: An Open Letter To Our Customers).
The vast majority of Lyrical Host customers describe themselves as not tech savvy. This is almost always down to confidence, or because they've never had anyone to help them understand. So much of the content and the help out there is aimed at a different audience or trying to sell a specific solution (such as a plugin or service that may or may not help, depending on the site and situation), which is why we do things differently.
We have tons of tech support – and emotional support! – to help. There are no stupid questions. And chances are you're not the first person to ask that question…we've heard pretty much all of them by now!
Our team can work with you one-to-one via our ticket system (more information on how we work is here: A Bit About Our Support Process, answer any questions you have, and help you get set up with your website and theme. Once you've signed up, you'll get a link to a page full of our own resources to help you get started.
We also have a bunch of public WordPress tutorial videos so you can get an idea of what's involved.
If you're happy to put some time into getting familiar with WordPress, and you're motivated to stick at it, you'll get there. If you're not interested or don't want to spend more than a few hours creating a website, you're likely to prefer a basic website builder rather than WordPress.
I've heard that WordPress is a lot of hassle and always needs updating, is that true?
These days WordPress tends to be very smooth and easy in its update process, and literally all that's needed from you is a couple of clicks to update it. It broadly depends on how complex you decide to make your WordPress website and how many plugins and themes you decide to keep at once. You can set both your WordPress website and the majority of plugins to automatically update if you prefer. If you prefer to do it yourself, all you need to do is click "Update" next to plugins showing they have an update due, and the update will run. Themes you may want to talk to our support team about before you update if you've made any custom changes that may be overwritten.
Usually you'll only need to spend a minute or so on updating things every few weeks, but it may be a little more than that if you have a lot of plugins.
If you have any problems or anything looks weird after an update, our support team will fix it or help you roll back to a previous backup of your website as needed.
I had a friend who had a WordPress website and it got hacked, is this something I should worry about?
If you're on top of updates, it's not common to see problems. Our service includes daily malware scanning, so if anything suspicious is found on your site, our team is notified and will contact you and fix the issue for you. They'll also tell you the cause of the problem so you can prevent it happening again. More details on this can be found on our Speed & Security page.
Additionally, you can also install a plugin such as Wordfence and have that run scans. If anything is found, just let our team know and they'll do a thorough clean up and let you know what caused it.
We don't charge extra for scanning or cleaning up malware, and it's done professionally by our in-house team. This means that there's no incentive for us not to do a thorough job the first time; we don't gain anything from cleaning your site and we aren't charging by the hour or locking you into higher fee "security" plans. It also means there's a strong incentive for us to locate and help you lock down on the cause, so we aren't cleaning it again!
How do I know if WordPress is or isn't right for me?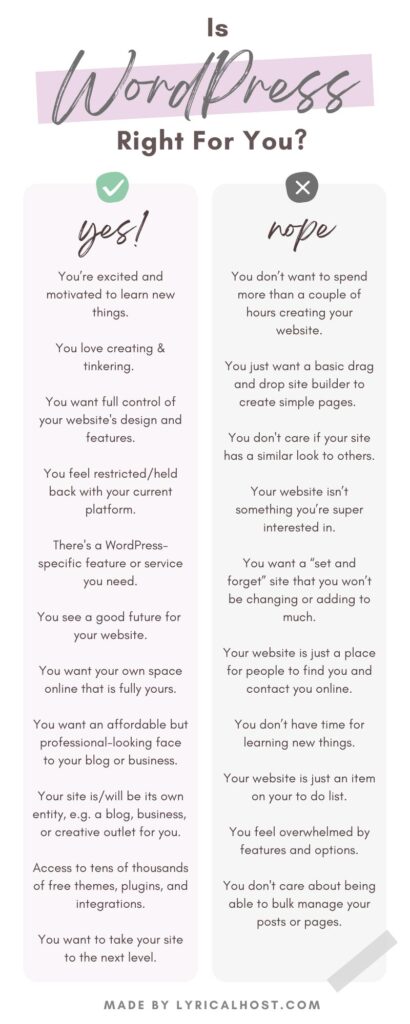 (If you're a Lyrical Host affiliate and would like this infographic in full size and different designs to use in your blog posts, please head to the Affiliate Resource Center!)

Signs WordPress could be a good fit for you:
You're motivated to learn new things, particularly transferable or career skills.
You like the idea of tinkering with your site and being in full control of the design and features.
You love creating (and you may have a bunch of different interests or passions, which is great for this because you get to learn a bunch of different skills).
You have a blog or website on a basic website builder and want to get serious with it.
You have/had a free WordPress.com plan but you want to have more options for your site.
You have/are thinking about a paid WordPress.com plan and you want pay less and get more (including you@yourdomain email addresses, which we include as standard with all plans).
You're aware of a WordPress-specific feature/service/plugin/etc that you need.
You see a future for your website.
You want your own space online that is fully yours to do what you like with (and isn't subject to social media fads and changes, doesn't restrict you in terms of design or copyright, and gives you a good foundation for SEO).
You want a professional-looking face to your blog or business without it getting expensive.
You want to take what you're doing to the next level or explore new ideas or projects.
Signs WordPress probably isn't for you:
You want to build your own site but don't want to spend more than an hour on it, and just want a basic drag and drop design with simple pages.
You're not bothered if your site has a similar look and feel to others.
Your website isn't something you're particularly interested in.
You want a "set and forget" site that you won't be changing or adding to much.
You see your website as just a place for people to find and contact you online (rather than it being its own entity, for example about content, blogging, your digital business, or your own creative space).
You don't like building or keeping on top of your website, you've just heard you have to have one so it's a necessary evil to you.
You don't want to spend time learning skills or thinking about your website.
You don't care about owning a website or what it looks like, it's just an item on your to do list.
WordPress isn't for absolutely everybody or every website or project, and that's okay! If you have any specific questions about WordPress, you're still not sure, or you'd like to play with a WordPress demo, please get in touch. You can message us on Facebook, Twitter, or email sales@lyricalhost.com – we'll be with you ASAP!
Think someone else would find this post useful? Please pin it on Pinterest: