When you're a content creator on the go it can be hard to pack light! But what's really an essential, and what can you leave behind? We asked a bunch of bloggers and small business owners what their travel essentials were. Here's what they said.

Currently reading: We Asked Top Content Creators For Their List Of Travel Essentials. Here's What They Said. Click To Tweet
"I take my Travel Hack packing cube, which I use with my Travel Hack Backpack to fit more items in my hand luggage. It also helps to keep my clothes separate from other items in my backpack. Using a packing cube enables me to travel light, which is especially useful when I'm on the go."

– Jasmine, The Life Of A Social Butterfly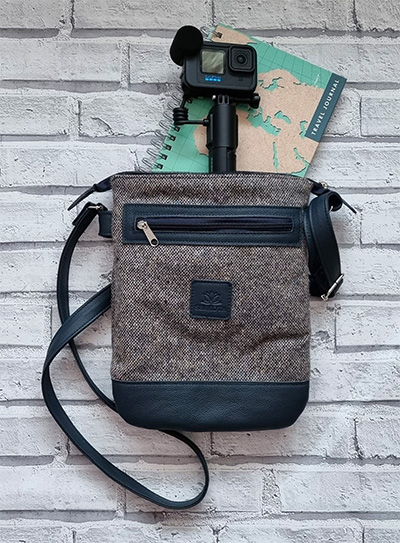 "We usually travel with a handbag and cabin rucksack, but this time I upped my game and added in a small cross body bag too (shhhh! 🤫) that contained my GoPro. You never know what you will see/experience when travelling, so it's great to have a camera/video to hand, without rifling through bags as you may miss the moment. Having a notepad and pen to hand is also essential for scribbling down creative thoughts."

– Sim, Touring Duo
"Having my camera & two lenses in my carry on is crucial to me. One one hand it protects the camera, but the most important thing: it allows me to take photos while on the plane. You never know what the view outside the window will be like, and it would be a real shame not to be able to take a high quality photo of it.
Aside from that I always have a notebook and a pencil case with some pens on me so I can write down things when I feel inspired. I've done some of the best content strategy planning while on the plane, so I could not travel without these items."

– Steph, A Nomad's Passport
"A portable handheld light, I feel like I see one of these get pulled out at every meal when I'm on a trip!"

– Roshni, The Wanderlust Within
"An external hard drive that I can download and backup my photos straight from the memory card without needing a laptop or iPad."

– Suzanne, Meandering Wild
"I always have extra SD cards in case one corrupts and to have the freedom to take as many photos as I want, my chargers so I can charge on the plane or while waiting to board if anything is running low, camera and phone to take pictures/videos, a blanket to stay warm and can be used as a prop, and a mini tripod and remote if a photo opportunity presents itself! I also always have my laptop so I can write or research posts/content on the go."

– Kat, Endless Wonder
"Spare undies in case my luggage gets lost. Contact lenses, tiny shampoos and conditioners in the plastic bag for the same reason. A pashmina if it's winter and a linen throw if it's summer. A charged-up power bank, my phone a charging cable and a universal travel adaptor. And yes, a pack of oat biscuits and a small thermos water bottle."

– Fiona, London Unattached
"A power bank is essential for me as I take so many photos when I'm travelling or on a scooter rally and my battery is often running low. I also shoot plenty of video footage these days too so regularly charge up my phone when I'm out and about."

– Ali, Diary Of A Detour
"In my backpack, I carry all my electronic gear including laptop, webcam, camera, phone, charging cords, flash drive, 3-plug extension cord, notebook and pen, plus medications and passport.
In my carry-on, my clothing, extra pair of shoes, and toiletry items."

– Heidi, Talk to Heidi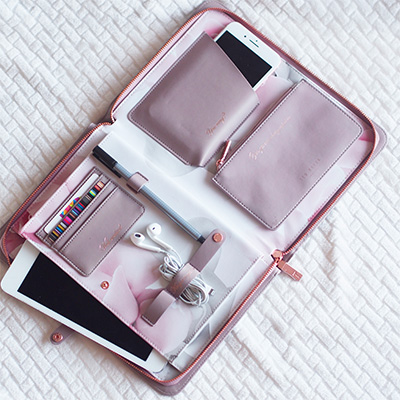 "I always have my tech organiser with all my cables and bits and pieces. Headphones, adapters, kindle and anything else I need to blog on the go."

– Fiona, From Fiona
I always carry all my gear in my bag, so that would be my camera, lenses, SD cards, hard drives, a laptop, and chargers because I would be very anxious if I check them in. I also keep a packing cube filled with some outfits for photos in case my checked in bag doesn't make it and I have to shoot content upon arrival. Some other items I also take are a hat (for prop), basic makeup, travel adapter, passport, wallet, water bottle and reusable cutleries to make my life easier and to try to not contribute to waste when travelling.

– Charu, Travel With CG
"My phone in a damage and waterproof case (because heavy rain*, swimming or boating, and clumsy me).
Depending on where I'm going, sometimes I also take my waterproof camera, which can take photos in deeper waters. For the camera I also have a small gorilla tripod to take selfies or group photos in various places (using the phone as a remote via app) or to set the camera someplace still to film.
The two devices communicate via wifi, allowing me to download media from my camera to my phone on the go. Then, I just need to edit and publish or go wild and publish directly with a nofilter hashtag 😁"
*though not this summer 😔

– Mirela, The Travel Bunny
"I carry my chromebook with me everywhere. Also a notepad, planner, and 3 pens. I never know when I want to start brainstorming for new content ideas and if I am brainstorming I want to put it into my planner so it can be scheduled in. Then, we start typing. 3 pens just in case I lose one while travelling hahah."

– Annie, AnnieChopra.com
"Always have my wheelchair, kindle and a bag of books (car travel only), portable selfie/phone stand, chargers. Bridge camera for capturing garden photos, notebook (I'm old school) for book review notes & collating information on gardens, planting layout etc. Also like to take my watercolour paints, to capture some of the flowers in botanical art.
I try to avoid taking my laptop when I travel, but do take my iPad."

– Ange, Garden Teacakes And Me
"Always a crash helmet, protective gear and a laptop if I'm travelling for work."

– Iggy, Scooter Lab
"As a wellness blogger, I carry heaps of things to make my flight more comfortable. But the two I won't leave behind are flight socks which stop my feet from swelling and a mini bottle of Aromatherapy Associates Revive Oil to wake me up so I'm ready to go when I get to the other end."

– Helen, The Wellness Nerd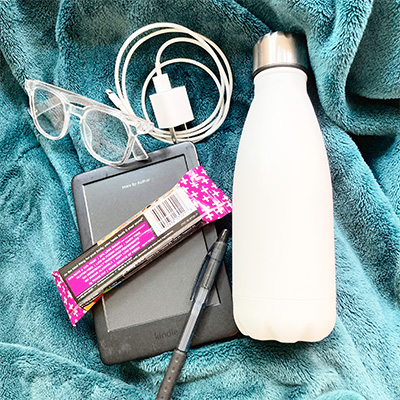 "I'm a book blogger so travel time is crucial reading time for me. My must-haves are my trusty lightweight Kindle, reading glasses, phone charger, snack, water bottle, a pen. Wish I could fit in the fuzzy blanket but I like to travel light."

– Jen, JenRyland.com
On Pinterest? Pin this for later: