With more people starting to move away from Google Analytics, we thought it would be a good idea to set up and test some alternative options for tracking site metrics. We've done the hard work so you don't have to!
The first thing to note is that it's completely up to you what you decide to use. This is an unbiased post – we aren't telling you what to use, we aren't pushing any particular service over another, it's purely information to help you make a decision. If you want to stick with Google Analytics, that's your choice too. (Special thanks to Gareth and Uzayr from our support team, who did tons of work on testing!)
If you use an ad provider or plan to display ads in the future, you may want to check with your preferred network/s which analytics services they accept before making any big decisions.
After extensive research, we put together the shortlist of options you'll see below. The ones that didn't make it to the shortlist were culled because of price (all the options below are either free or have a plan that's affordable for bloggers and small businesses).
Currently reading: Google Analytics Alternatives For Bloggers And Small Businesses (Tried & Tested) Click To Tweet Once the shortlist was finalized, we distributed the options between our support team for them to install/set up and test. For each service, they specifically focused on answering these questions:
How easy is it to get started/install/set up (especially for a less techy person)?
How comprehensive is the data?
How easy is it to use/navigate/find things?
What other features does it have (e.g. third party integrations)?
How much is privacy a priority?
What else (if anything) would someone want to know about the service?
Every blogger and business has different personal priorities and needs, so it's up to you to decide how important privacy, features and cost are for you and your website. If you're not sure, you could always create your own score or grade for each as you go.
Read on to see how we shortlisted services, and the results!
Making it to the shortlist: Stage 1
As there are tons of Google Analytics alternatives out there, we started by making a shortlist of analytics services to investigate further.
Immediately off the list were any that were out of a blogger or small business's budget. This cut out a lot of the big names, such as Heap. Many of these premium services are priced on traffic volume, so 25,000 visits a month would run up to thousands of dollars.
Although many businesses see less traffic than this, most bloggers are aiming for that traffic level or have already surpassed it, so we just didn't see them as viable options based on cost. Many of the businesses we host are small teams or solopreneurs who simply don't spend enough time working directly with their data to justify another subscription service at these price points.
This is unfortunate because several services looked very good, but we wanted to keep it real here. No one wants to be starting out and having to move all their data elsewhere further down the line when the costs skyrocket.
Shortlisting: Stage 2
After we ruled the pricier options out, we then had a small list of free and affordable services – at least on the surface. We had to do another round of culling based on small print. For example, Simple Analytics initially looked great, but some further digging into their overage policy revealed that they automatically charge for visitors exceeding the agreed amount per month – up to any cost. This could get wild for a blogger whose Pinterest pin goes viral overnight or who is featured on national TV.
Matomo was another one that was similar in that you're automatically charged and upgraded to the next tier, which means that if your traffic often fluctuates or you occasionally have high spikes, you'll be paying a lot more than you typically would expect (or even use consistently). Matomo has a free version, but you would need to run and maintain it on your own server, which is a lot more hassle and stress not.
We decided they were both too risky to include as a viable option – no one can afford to be hit with random bills of any amount at any time!
At this stage we also looked at things like updates, and ruled out ones like Gauges (get.gaug.es) that have been abandoned, and Mixpanel because it had the double concerns of being hard to install and very expensive beyond the free plan (it's an enterprise level service, so bloggers aren't the target market).
After that we had our final shortlist, so we began testing. Read on to find out our thoughts!
---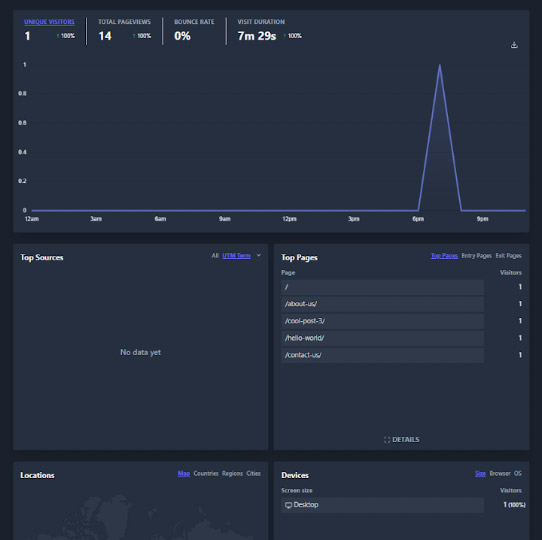 Plausible was pretty easy to set up, even for the not super-techy. You register an account, enter your domain name, and take the snippet that's generated and add it to your site (if you need help with this as a Lyrical Host customer, just raise a ticket!).
The nice thing about Plausible is that the most important stats are all shown on a single page so an at-a-glance view is super easy. If you're looking to dig deeper, most things are only a couple of clicks within the dashboard, so it's a good user experience.
Instead the dashboard there's a range of data types and options to check out. Referrals, search terms, hits, system information (like browsers and operating systems) are all there. There are also more advanced options for managing custom filters, goal conversions, campaigns and so on. It's pretty comprehensive and a lot of it will feel familiar if you're used to Google Analytics. There's no cross-site/cross-device tracking, and session tracking is limited to a day, so it's not super invasive for your visitors. There's also a Google Search Console integration that's easy to connect up, so you can use your stats from that within Plausible too.
If you're looking for more help and info on any of the features, Plausible also has good documentation – a huge bonus!
Importantly, Plausible states that their business model is just from subscriptions and they don't sell any user data, making it a good all-round choice if you're concerned about data privacy.
As the time of writing this post, Plausible will cost you a minimum of €9/month or €90/year for up to 10,000 visitors. Their pricing scales fairly reasonably, with 200,000 visits costing €29/month when billed monthly (yearly is cheaper). It's also worth noting that you can track up to 50 websites within your plan, so if you have multiple blogs you don't need to pay per website.
Plausible has a free 30 day trial, so you can see if it's for you before you commit.
---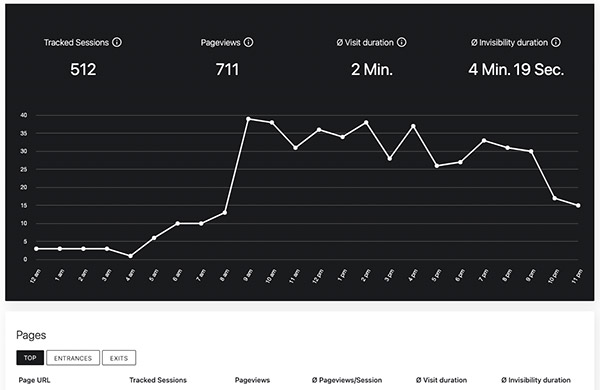 Fair Analytics gives you information on sessions, page views, visit duration, entry and exit pages, visitor sources and countries, system information (such as operating system and browser), and more. All the information is easily accessed with an at-a-glance dashboard, and it has a very modern and clean feel.
As of writing this post, there were no third party integrations we could see, and there's not really anything in the way of more advanced options, such as goal setting or a tag manager. It's good for simple tracking, especially if you're used to Jetpack's simple stats and find Google Analytics overwhelming or overkill.
It doesn't use cookies, so your visitors can rest assured that their privacy is being prioritized, and they publicly state that they're GDPR, DSGVO and RGPD compliant. Data is stored in Germany.
Getting started with Fair Analytics is straightforward. Simply create an account, enter your domain name and add the provided script (this can be done via the WordPress Insert Headers & Footers plugin). Once you've saved, tracking starts right away.
If you'd like to check it out yourself, try the demo or sign up for a free 7 day trial. After that, it costs just €2.99/month for one site, or €7.99/month for up to 15.
---
If you prefer to support small companies, GoatCounter gives you a privacy-friendly way to do just that. Goat Counter is a slightly different option as it was created by a developer, Martin Tournoij, who couldn't find a solution to meet his needs for his own website tracking.
Therefore it's more focused on core information (as opposed to more complex goals, funnels, etc. that you would expect to see as a marketer or data junkie). Privacy is prioritized, users aren't tracked across multiple platforms/websites, and you can choose to disable referral and user agent tracking at the click of a button. You can even set a time period to delete data.
Goat Counter shows the total hits with a breakdown per page/URL, referrals, and system info such as browser and operating system. From a stats and aesthetic perspective it's most comparable to AWStats (listed further down this post).
Signing up is straightforward; simply create an account and you'll be presented with your choice of code or details on installing the WordPress plugin. The plugin needs to be manually installed, so you may find adding the code snippet easier. If you need any help, you know where we are!
Once set up, your tracking begins right away.
As of writing this post, Goat Counter has a free/donation recommended non-commercial plan for unlimited sites up to 100,000 page views per month. ("As a rule, things like "pocket-money side-projects" are considered personal, especially if they're open source. Just get in touch if you're unsure and I'll tell you if it's considered personal." .
There's also a €5/month commercial use Starter plan for 100,000 views, a €15/month / 500,000 views pan, and a €30/month Business plan. Try before you buy by checking out the Goat Counter demo.
---
Signing up for Clicky is relatively easy, although if you're looking for advanced features it's slightly more involved. You can grab the tracking code to add to your site's footer, or they have a WordPress plugin where you can paste in your Clicky account ID.
Once you're in, it's pretty easy to navigate, with most data being a minimal number of clicks away and categories being easy to browse. It's logically laid out and easy to find what you're looking for in the dashboard.
The information Clicky gives you includes total hits (with a breakdown per page/URL on site that's easily filterable), referrals, search terms, system info (including on a map), bounce rate, average clicks and visit times, downloads, and so on.
Premium features include setting up complex custom goals and campaigns, which also requires you to write JavaScript.
Interestingly, Clicky also has a Yoast SEO integration that has been developed by the Yoast team.
Clicky describes itself as very privacy focused. By default, privacy is set to "strict" so no personal info is logged to be viewed. However, their FAQ seems to imply it's still logged by Clicky for their own purposes though, so if this is the case it's worth noting.
Unlike the other options we've included, Clicky bases its pricing on daily page views. On the Free plan, you can have up to 3,000 views per day (between 84,000 and 93,000 in a month). As of publishing this post, the Pro plan offers 30,000 page views a day across ten websites for $9.99/month or $79.99/year. There are plans beyond this, but 2.8 million views per month still only costs $19.99.
On the free plan, data is stored for max 30 days, while on premium plans data is stored for a maximum of 18 months.
Clicky offers a whole range of premium plan features in addition to basic stats tracking. For example, it includes split testing, segmenting, advanced segmentation, video analytics, campaign tracking, heatmapping, Twitter keyword monitoring, outbound link tracking, real time visitor streaming, and much more. If you're looking for something that offers a lot of features and maximum data privacy isn't your key concern, this could be one that suits you.
There's also a Clicky demo you can try out for yourself.
---
It's pretty easy to get started, although you'll need to provide card details even if you just want to use the 7 day trial. Once you've registered, you get the choice of an embed code or a WordPress plugin with full instructions.
After that, you'll be tracking data such as total hits (which is broken down by page/URL and easy to filter), referrals, search terms, bounce rate, average clicks and visit time, and very limited system information (such as browser).
Although it has all the essentials, including basic custom tracking and campaigns, this may not be one for you if you like a lot of data and features. An API is available if you're comfortable with code, but you have to email them for access.
Privacy-wise, there's room for improvement; however if you're integrating via script and you're happy to play around, you can alter it to filter out things like IP tracking. If data privacy is your top concern, we'd recommend opting for one of the privacy-focused options in this post instead.
Fathom costs $14/m for up to 100,000 views across up to 50 sites, or you can get 2 months free by paying yearly. Their highest plan is $44/m for up to half a million views at the time of writing this post.
---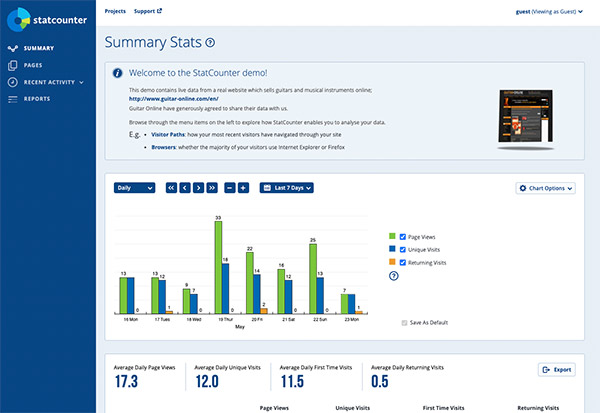 StatCounter has been around since the 90s, and its simplicity and ease of use makes it a good option if you're looking for free basic stats on your website visitors. The free version contains ads and only includes up to 500 page views, but you can upgrade to 100,000 page views for €9 per month. You also have the option of adding on site recordings for an additional cost, if you like to see your visitors' actions around your site.
Statcounter keeps things simple, which means it's relatively easy to browse and use (although some buttons are a bit too similar), but maybe not the best choice for data junkies. It's easy to get started; provide some details such as your domain and country on sign up, and then add a snippet to your site or use their provided WordPress plugin.
It gives you all the basics – hits, returning visitors, sessions, new visitors, and so on. There's also session path tracking and keyword referral trackinng, and download tracking, plus a custom tag system (but no custom event/path tracking).
There's a Statcounter demo if you'd like to see what it looks like before you sign up. However, unless you're looking for an analytics option with site recordings, you may be better off with AW Stats (further down this post).
---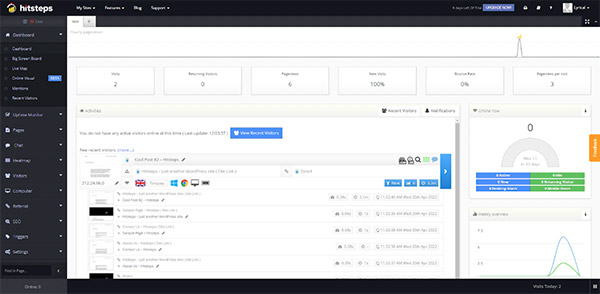 We've included Hitsteps in this list because it has a couple of interesting WordPress integrations, connecting to WooCommerce and JetPack. Woocom integration looks good – basically an automated tracking goal. You can just click a order number and it'll give you a breakdown of everything that user did in the lead-up to purchase.
Another positive is that it's pretty easy to set up. Just enter your domain name to get the tracking code, which you can add to your WordPress site via the Header & Footers plugin, or you can use their own plugin (simply install, activate, and enter your Hitsteps login information to get started).
The dashboard looks attractive, but the downside is that the user experience isn't always as good as many of the other options we tested. It's not terrible, but there are lots of unnecessary clicks to get around, which may take some getting used to.
Hitsteps has a bunch of different plans, including a basic free one. As of writing this post, expect to pay $9.99/month for 10,000-50,000 visitors and $21.99/month for up to 500,000 visitors. The premium plans also include extras such as heatmapping, campaign functionality, and custom tracking information. There's a seven day free trial so you can see if it's for you.
While not the cheapest option, if you have a WooCommerce store and the time/motivation to use the data, it could well be worth the money to you.
---
AW Stats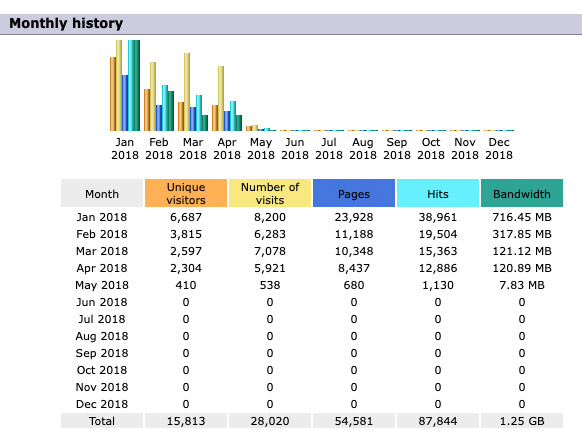 If you're hosted with us, AWStats is automatically included for each site in LyricalCP. To see your visitor data, check out our support article How Do I See How Many Visitors I Get To My Website?
Although it has an old school style, it still contains useful information about your visitors, sources, and so on. It's also lightweight and there's no account, plugin, or other setup needed. Bonus!
Even if you need something more comprehensive for your analytics, AWStats is still useful for cross-referencing with other analytics tools from time to time. This is a helpful "second opinion" as to whether your traffic patterns have changed, or something has simply gone wrong with your other tool's tracking.
Lyrical Host customer? If you need any help with your analytics, please create a support ticket with our team any time, and they'll gladly help!
---
To sum up…
If you're happy with Google Analytics and see no reason to make a change, you aren't missing out by not switching. However, if you're not a fan of the latest iteration of Google Analytics, you're not a Google fan, or you're concerned about data and privacy, there are some good alternatives out there.
We always recommend testing for yourself to see if a service meets your needs and budget, and we'd always recommend reaching out and trialing the customer service and response times of the company you pick. Even if you're not sure just yet, hopefully we've saved you some time doing the initial research yourself, and you can make your own shortlist even shorter by cutting out ones that don't meet your traffic/budget options.
If you use any of the Google Analytics alternatives we've covered above – or any others that are free or reasonably priced! – we'd love to hear how you're getting on. Drop us a comment below (no links please!).
If you found this post interesting, please pin it for someone else: