Have you ever sat down to create an email, landing page, ad, or similar, and been stuck for inspiration? We've pulled together some of the best websites with real-world examples of all the above so you can get all the ideas and best practice tips you need.
To get the most out of these resources, we'd recommend creating your own swipe file based on the examples below that most resonate with your business. This could be a folder or even a Pinterest board with some of your favorites. For bonus points, you could also include a description that sums up what you like about it and how it's inspired you for your own brand.
Currently reading: 10 Of The Best Done-For-You Swipe File Resources
Click To Tweet
In no particular order, here's the list. Enjoy!
01. Adespresso's Facebook Ad Examples
Adespresso has collated nearly 200,000 examples of Facebook adverts and made them easily searchable so you can find relevant inspiration straight away. If you're stuck for copy, image, lead magnet, or call to action ideas, you can't go wrong by checking this comprehensive resource.
Get the Adespresso ad examples
02. Really Good Emails
Really Good Emails does exactly what it says on the tin: showcases emails of all different types from brands. They're all neatly categorized, so whether you're looking for an onboarding process example or a straightforward mailshot, you can find it straight away.
03. Get Response: Welcome Emails
You can never have too much email inspiration, so here's Get Response's swipe file fest of Welcome email inspiration. Whether you're onboarding a new coaching client or welcoming an ecommerce shopper, there's something here to take inspiration from.
Grab Get Response's collection
04. Instapage Landing Page Examples
A good landing page makes a huge difference to your bottom line, so the more inspiration the better! Instapage has pulled together a variety of landing pages that have been used in the wild so you can get some ideas for testing and improving conversions.
View Instapage's landing page examples
05. Swiped
Swiped promises swipe-worthy inspiration for all kinds of things, and it delivers! Interestingly, you can even browse by age, with resources separated into modern day and also 1990s and earlier.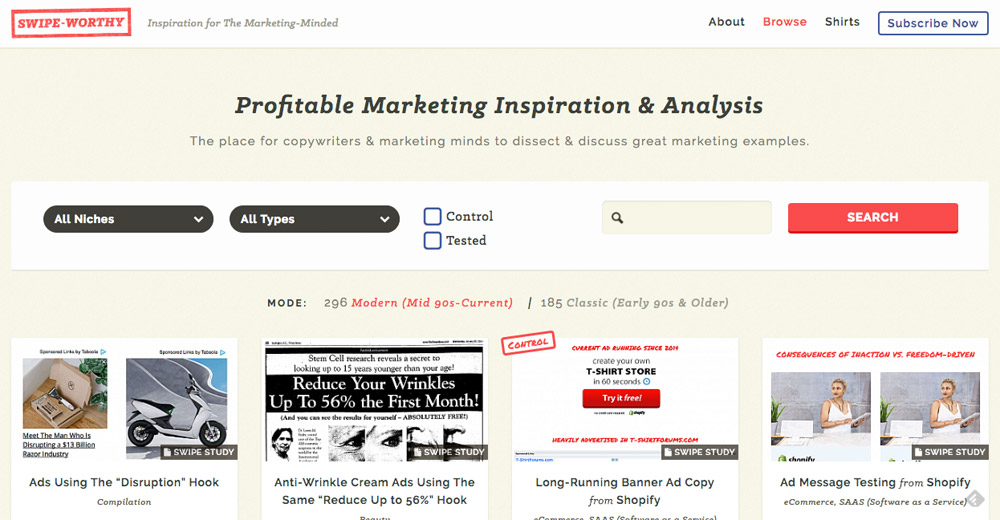 06. Swipe File
Listing a mix of both real-world and digital examples of everything from billboards to sign up forms, Swipe File is a simple and straightforward resource for adding swipes to your file.
Visit the Swipefile collection.
07. Crayon
Crayon is a super comprehensive resource. We've mentioned it before (see 21 Free Tools You Didn't Know You Needed), but it's so good we're including it in this list too. Listing marketing materials and real-world examples of all kinds, Crayon's granular search means you can even browse by CMS or industry.
Search all of Crayon's swipes.
08. Sprout Social: Instagram Story Ads
Instagram Story ads are still relatively new, so it can be hard to position them for your brand. Luckily, Sprout Social's great ad resource is on hand to make your life easier.
Check out this collection of Instagram story ads from Sprout Social.
09. Dribbble.com
Dribbbble is known for being a place where web designers can upload shots of finished work or works in progress. But even if you're not a designer, it's a great place for visual inspiration of all kinds. From color schemes to out of the box logo ideas, Dribbble has it all in small images known as "shots" (there's a basketball theme).
Take a look at shots on Dribbble.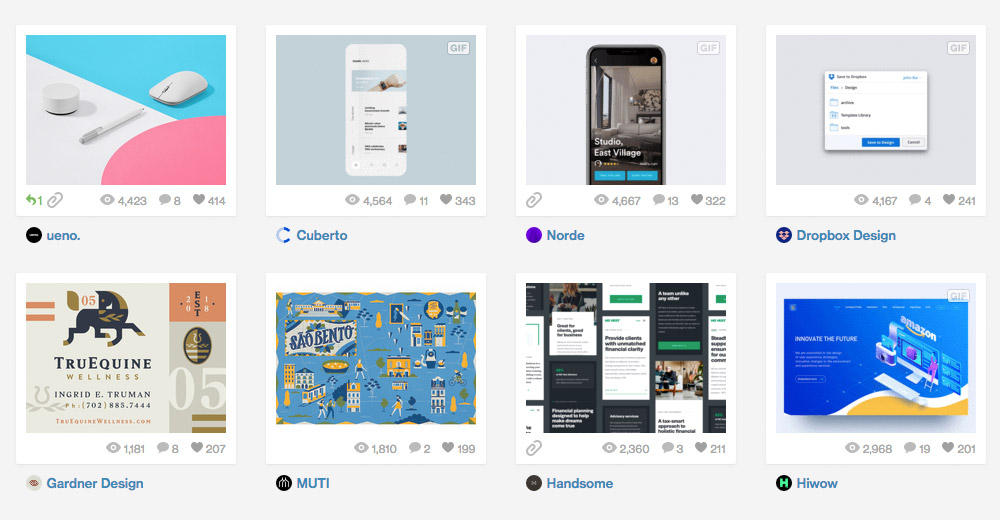 10. 100+ Blog Post Headline Formulas
One of the hardest things about writing a blog post can be crafting the perfect headline. Snappy, intriguing, and convincing people to read further, it's one of the most important things to get right.
Check out this list of headline ideas from Jeff Bullas.
Bonus Landing Page Examples
We know we said ten, but here's one more that's worth checking out: Moosend's landing page examples.
Have you created your own swipe file? What are your favorite go-to websites for inspiration? Let us know in the comments!
Pin for later: