Branding (or rebranding) your blog or business is such a fun and interesting project. Naturally, some people already know what kind of branding or colors they want to use, or know which direction they want to take it in. But when it comes down to your final choice, it can sometimes feel like a never-ending task trying to create the perfect palette.
A color palette that's consistent or giving your blog or business a completely new revamp can be challenging or time-consuming. You may have a vague color theme in mind, want a different perspective, or just don't know where to start. So we've put together a list of great tools to inspire you and help you get the perfect foundation for your blog or business's brand.
Currently reading: Popular Color Palette Resources (Free & Paid)
Click To Tweet
These recommendations are perfect for people who want time-efficient, inspirational, and easy methods to help them enhance their brand, blog, or business.
This is a great generator for choosing a color palette! You can select up to 5 colours on the free version and press the space bar to generate a multitude of different options and it automatically chooses colors that are well suited with funky names too. You can use this to save a multitude of various palettes, and then use the CMYK and RGB codes in any program.
Free or paid? Free, Paid "pro" version.
Website: coolors.co
---
Adobe allows you to create a color wheel through custom choice or a selection of color harmony rules. You can drag each point in the colour wheel to create a colour palette, and alter the color mode to choose whether you want this in RGB, CMYK, HSB, or LAB. We would recommend sticking with RGB or CMYK.
Free or paid?  Free
Website:  color.adobe.com
---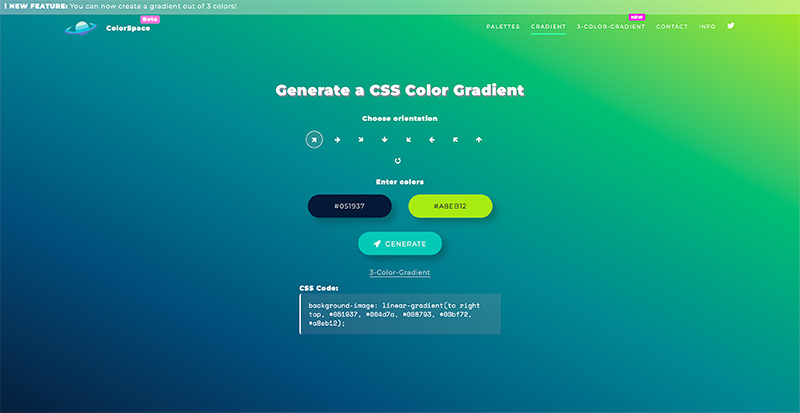 If you're looking to create gradients; the CSS colour gradient generator from mycolor.space is a super cool tool. It can change the direction of the gradient and be able to copy the CSS code quickly and easily to use in your formatting. Great if you're looking for a cool background as a filler!
Free or paid? Free
Website: Mycolor.space
---
Fantastic for historical blogs which are writing time specific posts. You can select a colour palette in different light and dark tones for the era that you're writing about. These are accessible to use on all platforms, simply copy and paste the codes into your preferred program/site.
Free or paid?  Free
Website: colorleap.app
---
Palettte App is a type of color technology developed to help not only graphic designers and bloggers, but UX/UI. This is good if you need to work with a consistent colour palette,  whilst working with various shades of the same color. This is useful if you want to take your time deciding on the perfect tones.
Free or paid?  Free
Website: palettte.app
---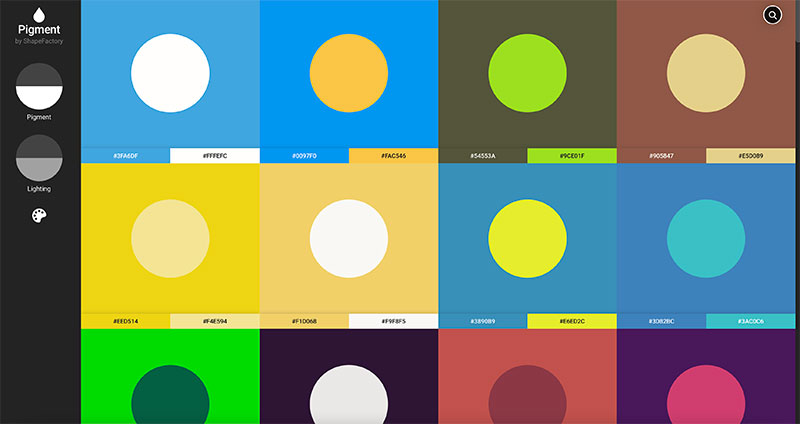 Pigment gives you a selection of colour palettes which allow you to see what they look like in real life with natural lighting. This is great if you're choosing colors for physical products and you want to see a realistic color palette, as you're able to choose the pigment and lighting. Best applied to programs such as Adobe XD or Dimension.
Free or paid?  Free
Website:  pigment.shapefactory.co
---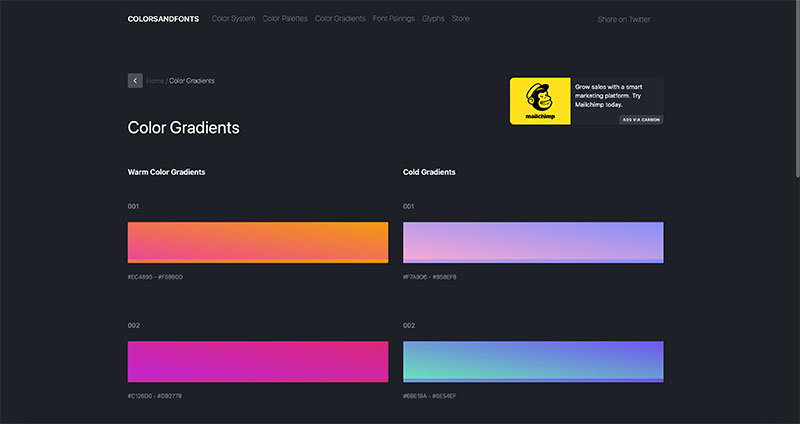 A great combination of colour palettes, gradients, fonts and glyphs, to use in your blog or on your website. You can use a combination too such as the fonts and gradients, to create a nice and bright content title cover, or choose the kind of tone you want for your colour palette.
Free or paid?  Free
Website: colorsandfonts.com
---
An awesome extension if you're looking to create and share your swatches. It gives another user the option to download or open these in Google palette, Coolors, Sketch, or Adobe, and all you need to do is sign up to the site! This saves so much time in transferring files for collaborative projects, and there's a paid version too for API.!
Free or paid?  Free & Paid
Website:  palette.site
---
 
A fantastic selection tool to help you find HTML colors using Hex color codes, RGB and HSL values. For more experienced web designers or bloggers, it's a super useful tool as it's an industry-standard tool for coding your site with different colors.
Free or paid?  Free
Website: htmlcolorcodes.com
---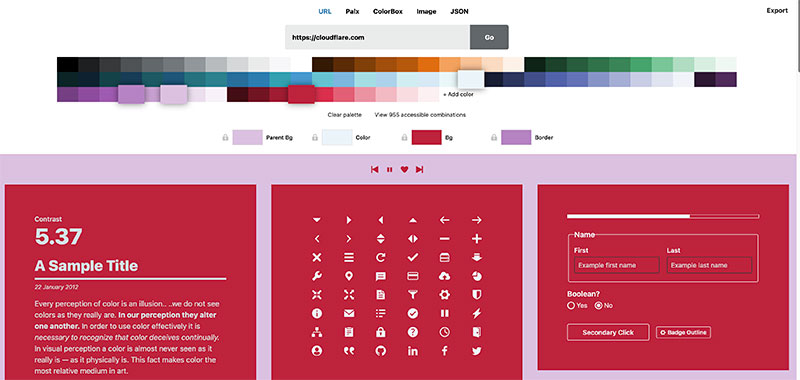 A brilliant tool to help you decide on a color theme for your site. This allows you to view how your site will look with the text, background, icons, contact forms, and buttons. Which saves you time editing by experimenting and easily being able to select different colors without actually having to change your site.
Free or paid?  Free
Website: color.cloudflare.design
---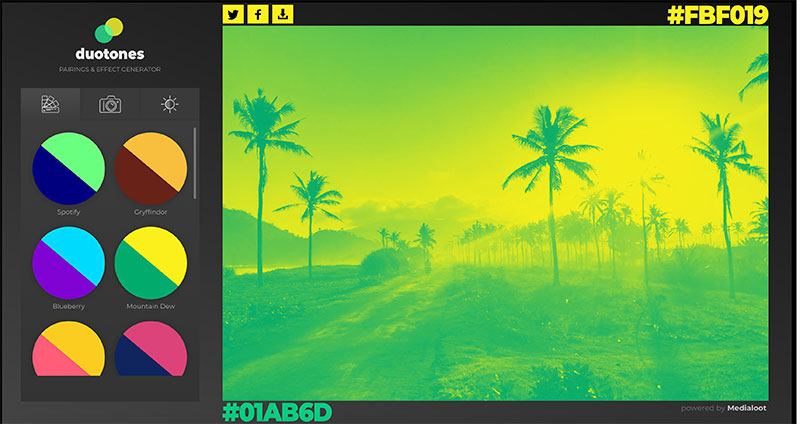 This is brilliant for editing backgrounds or images if you want an image with multiple tones! You can upload the photo and either choose from the options provided or select your own colors. This saves you a bunch of time trying to find a decent background or blog post image as you can simply upload an image and create your own within the space of 2 mins.
Free or paid?  Free
Website: duotones.co
---
Like Tinder, but for branding? Swipe on the colour palettes you come across on the app and create a selection of different ones you like. It also generates a choice of colors accumulated from popular algorithms. This is beneficial if you want to create a palette that's on-trend or you want to go against the grain and choose something new!
Free or paid?  Free
Website: polarite.app
---
This is a cool site as it's similar to some color generating apps. However, it's a quicker way of viewing different colors and choosing whether you "Like" or "Dislike" them so the colour doesn't come up again. It's really efficient in creating a palette of random choices that suit each other and super easy to pick a palette on the go!
Free or paid? Free
Website: palettable.io
---
A brilliant tool if you're looking for an in-between color of two shades or tones that you've found. This tool blends the two shades to find the exact color you're looking for! It provides options to have it as a solid color or a gradient. It's also useful if you were looking for a specific shade and you can't quite describe it but it's a combination of different colours.
Free or paid?  Free
Website: colorkit.io
---
This downloadable set of 100 mesh gradient images is 100% free and super high-resolution quality! You can download these in AI, JPG, PNG or EPS. These are brilliant to use as simple backgrounds for either your phone or desktop or for designing content such as blog posts, posters, and marketing material; they really draw your attention!
Free or paid? Free
Website: products.ls.graphics
---

If Canva is a site you enjoy using, they can also help you decide on colour palettes for your designs or content! You can search for a type of theme; if you wanted to go for something more specific. Using these for predetermined templates means you can easily choose different colors for your designs or PDFs you've created.
Free or paid?  Free
Website: canva.com
---
If you found this post useful, please pin it for someone else to discover!