As soon as we spotted Yang's stunning papercut designs, we just had to ask her for an interview. Happily she agreed, so here's her story, presented as the first part of our Inspiring Women interview series.
Yang's work is truly beautiful, and we're honored to have got the chance to speak to her about her work.
Hi Yang! Thanks so much for agreeing to be part of our Inspirational Women interview series. Could you tell us a bit about yourself and your background?
Hello! Thank you for giving me this opportunity to share my work. As you already know, I'm a papercut
artist and illustrator based in Chicago, but I'm originally from the Philippines. Just like most people with artistic pursuits, I started making art since I was young – mostly were drawings and a few watercolor paintings.
I also did political cartoons and had a regular comic strip during my time as a graphics editor at the student publication of the university that I attended. I've always been adamant with showing my work to a large public, but I finally caved and opened an art shop last September 2017, initially focusing on papercutting.
You're an exceptionally talented papercutter. How did you first get into it and what's the journey been like so far?
I actually learned about the craft in 2013, after leaving my corporate job of 5 years. Even before filing for my resignation, I was already contemplating on how much I have been dismissing my strong interest in making art – something that I've possessed since childhood. So before accepting another job offer, I took a couple of months off and dabbled on a few artistic activities – one of which was papercutting.
I honestly did not expect to get so hooked at it, but I was. I even ended up putting two of my amateur pieces up for an auction for the benefit of typhoon victims that year. They both got sold and I donated all of the proceeds to the cause. It was a priceless experience that I always keep close to my heart. I must say it also served as sort of a compass for my artistic journey.
When and why did you start Paperhugger Studio, and what was your vision for it?
I have been creating pieces on and off for a couple of years. I also illustrate and paint; so I was juggling these fun activities during my free time when I was working once again. I left my most recent job to focus on my master's degree and I eventually moved to Chicago in 2016. I still had all of my art supplies from the Philippines with me; and I have been actually accumulating more. I've often complained that I cannot do what I love because work was so hectic, but now here I am in a new environment with a clean slate – allowed to take any direction that I'd want to. So I continued with art in 2016, mostly focusing on painting.
I'd occasionally make papercut art so that both skills would not atrophy. By the time that I decided to show and sell my work in 2017, I realized that papeructting was a less saturated and a much more unique scene in the online art market. So in September 2017, in the middle of a woodsy estate in Wisconsin, I opened Paperhugger Studio. The atmosphere probably influenced my shop's name because there were trees everywhere. Treehugger… Paperhugger… 🙂
In terms of my vision, I have been constantly bringing up my illustrations and paintings because I have a solid goal of tying these crafts with my papercut art. This is honestly the most challenging aspect of my art right now. But I am positive and excited about it; and I can't wait to offer the future results of this endeavor someday.
Your Etsy shop is so beautiful, what advice would you give to someone looking to style their product photos effectively?
Consistency is key. When I started, I did not really have a plan of what my signature styling is going to be for my products. This is a common mistake. Plan on it. Plan the overall aesthetic of your art shop because it is just as critical as your signature style as an artist. I planned my shop launch, but I missed on the shop aesthetics. So that is something that I would tell myself if I could go back in time, to those months of planning period for Paperhugger Studio.
How do your customers use/present your art?
I treat my papercut pieces as art that are meant to be displayed, preferably in floating frames for a beautiful effect. So far, I have only seen two customer photos of my art, but one of them was just showing them in their original packaging. The other one displayed it in a matted frame that almost looks like a shadow box and I believe she gave it as a gift. I had a client who asked for the dimensions of an item because she wanted to use it for her journal cover, but I did not see photos of it yet. I also had a client who used the custom papercuts as a display and will also be using them as design references for her future tattoos. I am yet to see the results of that one.
Where do you find inspiration for your cuts?
The initial inspiration was probably the fact that the shop was opened in the middle of the woods. So my initial batch of papercuts for sale was mostly woodland creatures/forest animals. I also draw inspiration "from inspiration." It sounds silly but it means that inspiring and motivating thoughts are also good sources of my designs because I create papercut pieces with texs. Also, my illustration style always comes through in my papercuts. I love doodling and I always illustrate using fine, repetitive lines and I think that habit often shows in my papercuts too.
How long does it take you to complete a piece of art?
It always depends on the size and design of the piece. A small piece with a simple design can take me 3-4 hours to complete, including the sketching period. Relatively bigger projects can take from 8-12 hours and some pieces take me 5-10 days to complete.
What's your top tip for someone looking to get into papercutting?
Never drop your precision knife because it will instantly dull the blade, lol. On a serious note, don't be afraid to dabble in papercutting! It can be intimidating because creating with a knife is nerve-wracking as compared to drawing with a pencil and an eraser to correct mistakes. Start with very basic designs and NEVER RUSH even if you are super excited to see the silhouette effect of the finished product. Once you get better with cutting and controlling the tools that papercut artists use, then you can move on to more challenging designs.
What's next for you and Paperhugger Studio?
I mentioned earlier that I have a vision and a goal to incorporate my illustration and painting style with papercutting – still a long journey to take, I guess. But right now, the goal is to create pieces of a bigger scale so I can potentially exhibit them. I am also working on expanding my collection of ready-made designs so that the shop has a good number of pieces for different seasons and occasions, like winter-related pieces, graduation-related pieces, and so on. And lastly, I currently only have one customizable piece in my shop and I will be adding two more very soon. I am also exploring products that can have my artworks such as postcards, calendars, and stickers.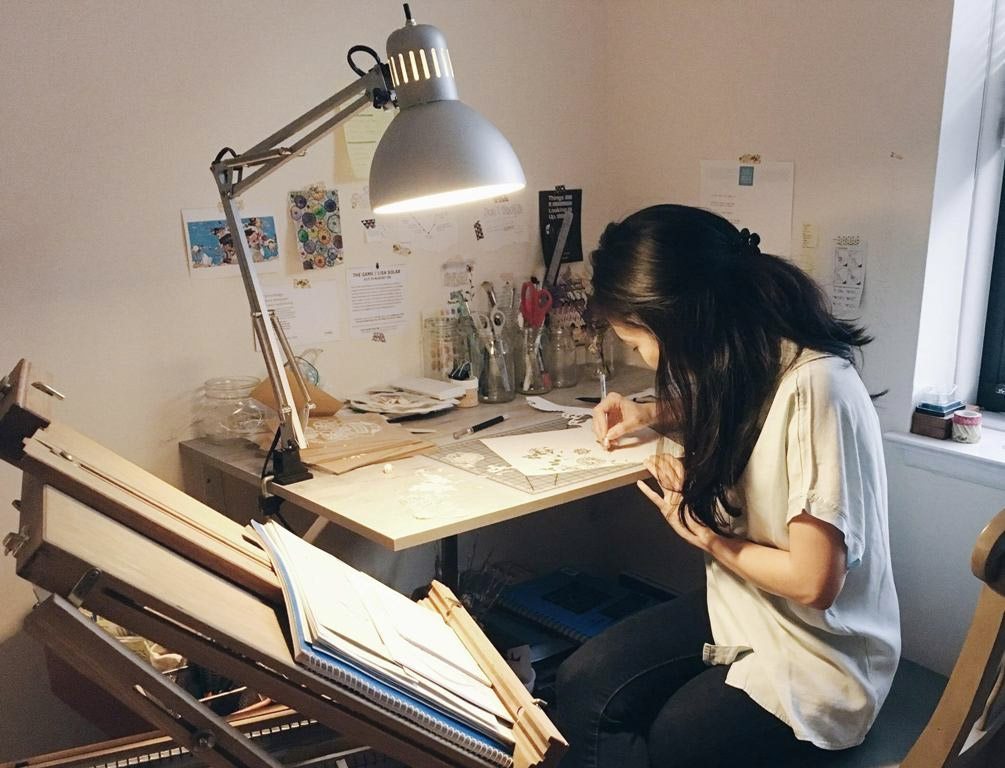 Thanks so much Yang! Check out Yang's store, Paperhugger Studio, on Etsy.
If you'd like to nominate an inspirational woman to appear in our series, please email marketing@lyricalhost.com!