Following on from 21 free tools you didn't know you needed, we're covering some of the more essential tools and services that benefit our business – and can benefit yours too!
There are a lot of classics in this list, but if you're running a small business (or even a blog), it's useful to have a go-to collection all in one place.
There are so many things we haven't included in this list, such as a CRM (we use a web hosting specific one), project management software (we casually use Slack for this but Trello.com is a purpose-built favorite), and billing/invoicing services (again we use web hosting specific ones). For SEO we'd recommend Moz.com, but we haven't included it in our list because it's out of the price range of most small businesses.
Currently reading: 10 Fantastic Tools & Services We Use To Run Lyrical Host
Click To Tweet
The tools that have made our list are all very reasonably priced or free. Several also have premium plans, so you can scale up as you scale your business.

01. Slack
Slack is the 2.0 equivalent of old school chatrooms. As a business we use it to dump links and files, chat to each other, make business decisions, and just generally have a central place for collaboration.

02. Buffer
There are a million social media scheduling services out there, and we've tried a lot of them but always come back to Buffer.com. It's quick and easy to connect your social channels and queue up things to share. The only downside is that it isn't great at handling Pinterest, and you can't share the same pin to multiple group boards.

03. Creative Cloud
Adobe Photoshop is a staple for creating and editing images at Lyrical Host. It's used for everything from editing customer stock photos to designing Pinterest pins. We use Illustrator for creating our downloadable coloring pages. If you're not yet ready to invest in Creative Cloud, Canva.com is a great free way to make images and guides for your blog and social media.

04. WordFence
Featured on our list of 7 free essential WordPress plugins, WordFence is one of the ways we secure our WordPress install. It's not massively exciting, but it is a must-have!

05. Feedly
Every month we go through our customer list and add blogs to our RSS reader, Feedly. Feedly has a lot of great options for sorting and organizing blogs and is available both on desktop and in app form. Once we've collected a bunch of great customer blog posts, we queue them up in Buffer for sharing throughout the week.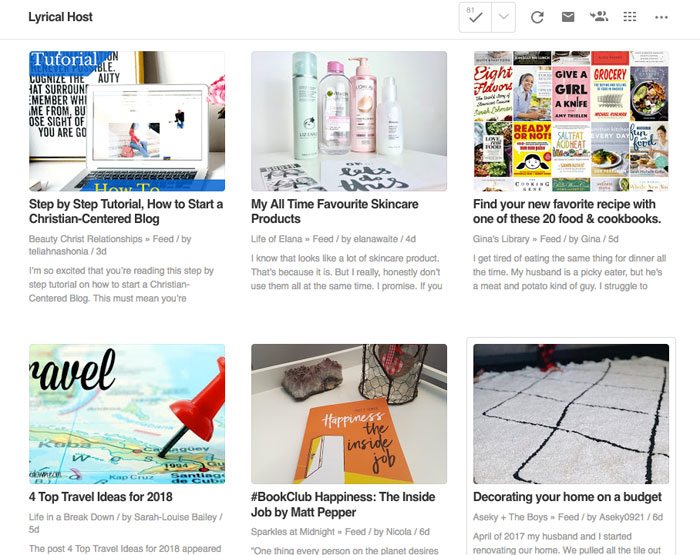 06. Harvest
Harvest is a pay-per-user time-tracking service. You can enter how long you've spent on a task or set a timer to keep you on track. It's great for seeing what time is spent where in our business, but if you're after a free version you can't go wrong with Toggl.

07. Office 365
A lot of our planning is done in Word, our guides are generally made in Publisher, and PowerPoint is surprisingly great for making infographics. There are free alternatives to Office 365, but we just prefer the aesthetics of the Microsoft suite.

08. Calendly
Calendly is a very simple appointment booking tool. We use it primarily for website migrations, but also for other virtual events we host such as masterclasses. It's super easy to use and user-friendly time zone switching makes it ideal if you operate globally.

09. Mailchimp
Mailchimp is the email marketing service we use to distribute our monthly newsletter to our customers. It's free for the first 2,000 subscribers you have, and it includes a lot of responsive templates which takes away the hassle of trying to get your email to display perfectly in all clients. A cheaper alternative is Mailerlite.

10. Typeform
Also worth an honorable mention is Typeform.com, which helps you create beautiful surveys really easily – we use this primarily for our end of year customer survey. It's really versatile so you can create all kinds of open-ended or multiple-choice questions in seconds.
What are your essential blogging or business tools? Let us know in the comments!
Pin for later: