This years contest is now closed! A huge thank you to all our egg hunters – BunnyBot will be back next year!
BunnyBot is back for 2023!
Find the colorful eggs that we have hidden around the Lyrical Host website and send them to our BunnyBot for your chance to win $30 USD (or $40 credit to your Lyrical Host account).
The competition starts on Friday 6th April and you have six eggs in total to find before it closes on Tuesday 11th at midnight BST!
Every egg you discover will give you one entry into the competition. You can find one or two, or all six!
How It Works
1. Find an egg somewhere on our site. They look like this (if you're using a screen reader, you're searching for an image with the ALT attribute "Easter Egg: Number #"):
This egg doesn't count, neither do any of the other eggs shown on this page!
2. Open Facebook Messenger and send BunnyBot a message saying Hey Bunnybot (typed exactly like this).
3. BunnyBot will respond and ask for the page where you have found an egg. They will collect the information and enter you into the contest. When you find another egg, just come back and tell BunnyBot.
4. If you have any problems with BunnyBot, just type 'help' and BunnyBot will get a human to come and assist you.
Good luck and happy egg hunting!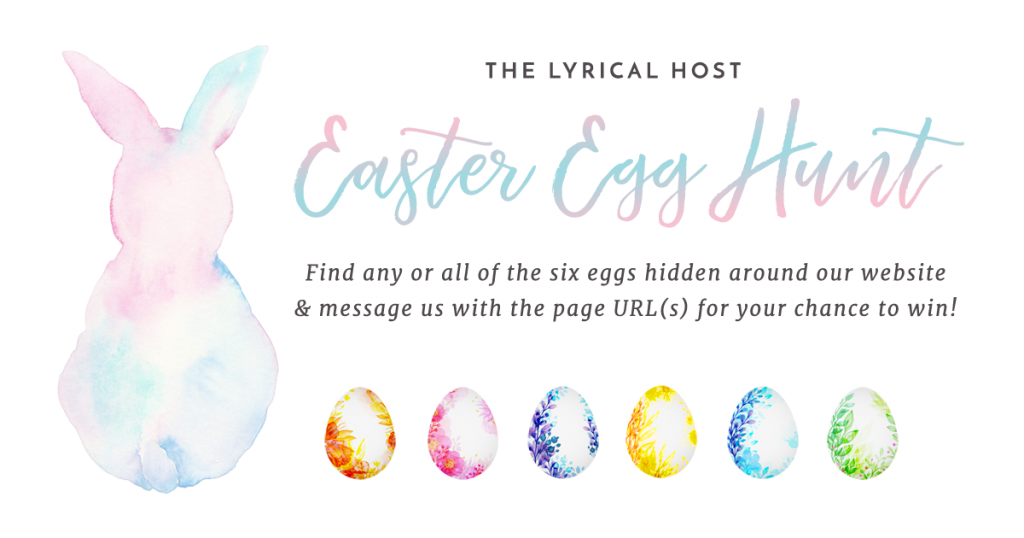 Terms & Conditions
Contest is open worldwide.
Six winners will be selected at random from all valid entries submitted before midnight BST on Tuesday 11th April 2023 and notified by Facebook messenger.
The winners will receive $30 USD or equivalent currency via PayPal. If you would prefer to have this credited in your Lyrical Host account you will receive $40 USD per equivalent currency in credit. The winner may choose a different currency and the appropriate value will be assigned.
No other prize alternatives will be offered.
If the winner hasn't claimed their prize within 14 days, we reserve the right to select an alternative winner.
We reserve the right to change terms and conditions at any time.
Your information will never be sold on or passed on to a third party for their own use.
You do not have to be a Lyrical Host customer to take part in this competition, but you will need to register a free account with us if you win.
There is a maximum of six valid entries per person.