Back in the early days of blogging, having a blog typically meant having an online journal where you wrote about your life. Over the years, the blogging industry has exploded into different niches, commercial businesses, and living the dream of earning a full time income from a blog.
While we respect all the reasons people blog, we're strong believers in "passion first" when it comes to websites, because doing what you love will get you through the slow times, the hard times, and the "everyone is better than me, omg" times.
Currently reading: We Asked, 'Why Do You Blog?' Here Are The Answers...
Click To Tweet
Let's start with our own blog. The Lyrical Host blog exists for several different reasons:
It's a great way to provide extra value for our customers and to get exposure to people who haven't heard about us.
It's another method for us to communicate tips, advice, and how tos (especially long-form ones that don't lend themselves well to social media).
A blog is great for search engine visibility. The more quality content you write, the easier it is to build up authority and rank for a broader range of terms in the search engines.
Many business blogs are quite dry and boring, so with the Lyrical Host blog our aim is to provide a mix of practical and fun content with something for everyone. It's hard work and takes a lot of time, but is more than worth the effort!
So with our reasons for the Lyrical Host blog covered, we decided to go back to basics and take to Instagram and Facebook to ask our customers some of the reasons why they blog. Here are the replies we got.
I blog as a way to conserve my memories, almost like a journal of my best experiences, and also to share my wealth of knowledge about festivals! My friends kept asking me the same questions so I thought it would be a good to write it down.
– Jessi, wheresmytent.com
---
I blog because I have ideas that I want to share with others! I may not be the best at writing, but I figured the more I do it, the better I'll become lol.
– Kacie, abravestar.com
---
I blog to share my passions, knowledge and anything I believe will help my readers lead a fulfilling lifestyle that is good for them and the planet.
– Angelica, angelicarenee.com
---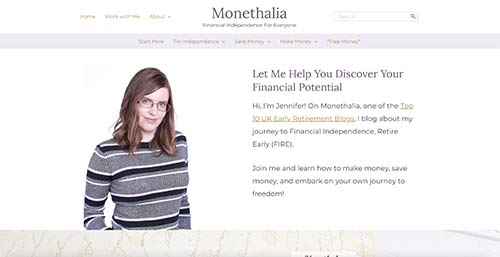 I started to document my journey to financial independence and I love writing. Though now my aim has shifted to empower others to become financially independent too
– Jennifer, Monethalia
---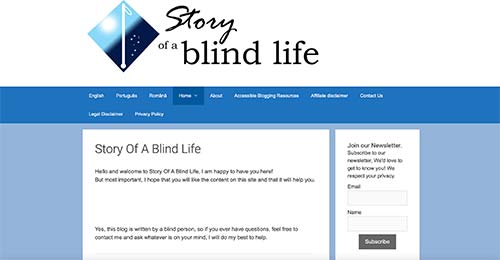 I blog because I want to share my thoughts about life, products, and books. I blog because people have questions about how blind people live and I have the answers to how we use phones, computers and which products are accessible. I blog because I love writing and I hope that my posts will brighten someone's day and help others.
– Diana Story Of A Blind Life
---
I started my blog to hold me accountable. I graduated into the recession and couldn't get ANY job. I needed to make £10 a day to cover my expenses and I wanted to move from using a forum to my own blog. That was over 10 years ago and now I blog to help others come up with real, legitimate ideas to make extra cash that really makes a difference to their lives. I've now expanded into other blogs as an outlet for my creativity.
– Emma, Make Money Without A Job
---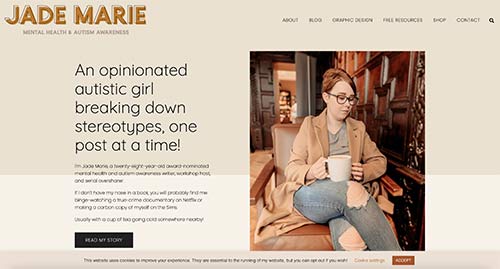 To help educate people on the realities of what autism actually is, as well as try to get rid of some of the stereotypes and misconceptions that are still annoyingly common even now.
– Jade, Jade Marie
---
I started blogging because I just love writing, so much so that it's now my career! Though my main blog has shifted to cover mostly entertainment and personal topics, I own two other blogs (one is a money blog and the other a minimalism one) as well as my business website, where I write blog posts for other businesses too. You could say I'm addicted to blogging!
– Sian, The English Every Girl
---
I started this blog to help and create a community among young adults, like me, who want to prioritize growth and live a better life. Due to many factors like burnout culture, we are suffering from back pain and mental illness, and I want to break this mentality that this is normal. My blog helps me be accountable and continue working on myself, and also share what I learn
– Meredith, Dear Self Grow
---

I blog to help others lead a calmer life. I am passionate about helping those with chronic illness and mental illness lead a more calmer productive life.
– Gina, Chronically Gina
---
I started a blog after I joined a walking group and I thought other people would enjoy seeing my photos. Rather to my suprise I discovered granny blogging was a thing especially in the States. I carried on because I enjoy the contact with other bloggers from around the world and creating posts for various challenges.
– Anne, The Platinum Line
---
I started my blog to document my experiences and ongoing recovery from a 9 month hospital and rehabilitation stay. Its since evolved into a platform for raising
awareness, highlighting stories from over 65 people worldwide. Undercover Superhero is a multiple-niche blog, disability, parenting and Marvel. I hope that by reading my content (and guest posts) that you feel less alone, make you laugh or shed some light on something you didn't know about.
– Ami, Undercover Superhero
---
I write about the realities of living with chronic pain along with pain management techniques that I've learned along the way. It helps people to know they're not alone and that other people do understand what they're living with. It gives me a sense of purpose knowing that what I write might help someone else.
I am also passionate about awareness and a blogging platform is an easy way to get that. I'm not fit and healthy enough to campaign, run marathons or take petitions to Downing Street. But blogging, I can manage.
Besides that, I love writing. It's enjoyable but also therapeutic and cathartic to be able to get my thoughts out of my head.
– Elizabeth, Despite Pain
---
I started the blog 10 years ago to share my story of being a mom to 18 kids. The trials and successes. As well as the fact that I am a runner and I was documenting my fitness journey from pregnancies, hysterectomy, and regaining fitness and confidence.
I've added to it since then to include minimalism, full-time RV living and Renovation as well as gratitude practices, marriage tips, self-care and time management.
My goal in the beginning was to share my story to make a difference one person at a time as people read my blog. I realize 10 years in (and I'm slow to this!) but it's also possible to take my experience, education, and expertise and earn a living from having the blog. Having said that I want the contact to continue to get better and to help more people and also to earn an income.
– Jenn, Mom's Running It
---
I struggled without answers to my and my family's medical and mental health problems for many years. I felt alone and misunderstood. I never want anyone else to feel that way. So I share our story to educate and help others.
– Sarah, Grace Under Pressure
---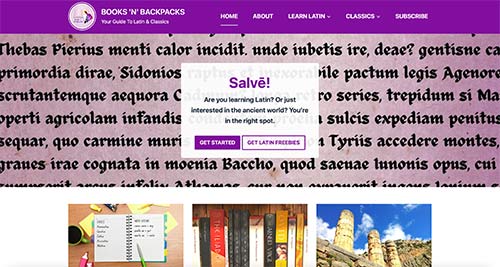 I have a multi-niche site, but my current focus is the ancient world. I am getting a PhD in Classics and I want to make ancient languages and literature more accessible to everyone. Often studying Classics is only available to people from privileged socioeconomic backgrounds, and with my blog I try to show that anyone can learn Latin and anyone can enjoy Roman literature. I'm still starting out, but I have big plans for the future!
– Livia, Books 'n' Backpacks
---
Although I started out with the aim of making money from my blog, I now just do it as a hobby to share photos from my adventures in scootering, travel and street art.
I also share my cancer journey to demystify the subject and have had some incredibly positive feedback for these posts.
It has led to me making many new friends on the scooter scene, appearances on TV and radio and lots of other fun stuff. It's great to have a platform of which I'm in complete control, to write about anything and everything.
–  Ali, Diary Of A Detour
---

It allows me to work from anywhere and create a career around something I absolutely adore doing, which is travelling and writing!
–  Nele, The Navigatio
---

I blog to be creative, connect with people I'd never normally come into contact with and express myself through forms of writing, photography & design.
–  Rosie, Love Rosiee
---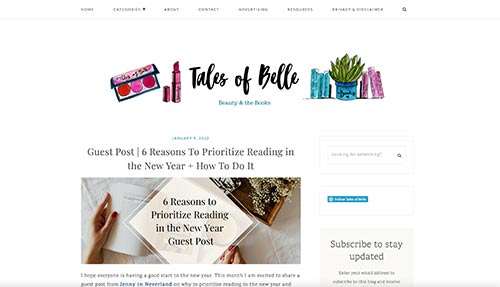 I blog to have an outlet for my thoughts whether it is on beauty, books, or just things that have happened in my life. I also want to help other bloggers and share what I have learned since I started blogging.
–  Karalee, Tales Of Belle
---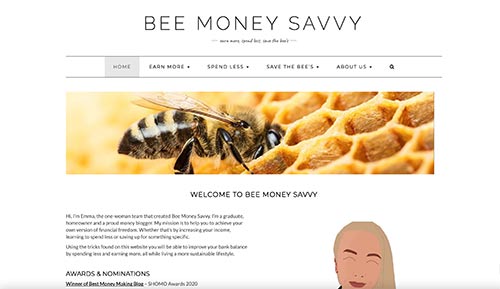 I started my blog as a way to share my money saving hacks with the world. My parents were given some bad financial advice when they were my age and it led to them being in debt for 15 years. I want my blog to lead to more open conversations about money!
–  Emma, Bee Money Savvy
---

I started my blog as a creative outlet for myself, but throughout my own self love journey, I have learned that I can inspire others to love themselves intentionally and to be a better version of themselves daily!
–  Cher Belle, Cher Belle
---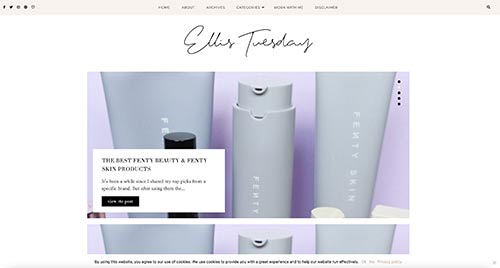 I blog to share the things that I'm doing, reading, watching, buying and trying with likeminded people. Being able to work with some of my favourite and discover new brands has been an added bonus.
–  Ellis, Ellis Tuesday
---

I blog not only because I love writing, but also because it's the perfect opportunity to advocate for the rescue world and help new pet owners incorporate their pets successfully into their daily lives. ❤️ Animals in need can't speak for themselves, but we can speak for them!
–  Britt, Shed Happens
---

I blog to inspire others to live their best cozy life! I love sharing about the things that make up a cozy life to me..food, home, books, and holidays. I enjoy creating a cozy community around these topics!
–  Sarah, That Lemonade Life
---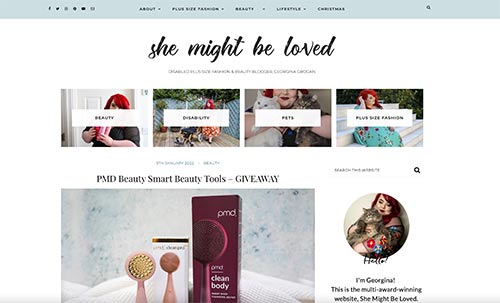 I blog to help others, from plus-size fashion and beauty recommendations to advice shopping for wheelchairs. My favourite blog posts I have done other the years have always been the ones that have made a positive difference to someone else and helped them in some way.
–  Georgina, She Might Be Loved
---

I blog so that I can write and promote products too. I love marketing and love small businesses so if I can help them in any way I consider that a win.
–  Peggy May, Peggy May
---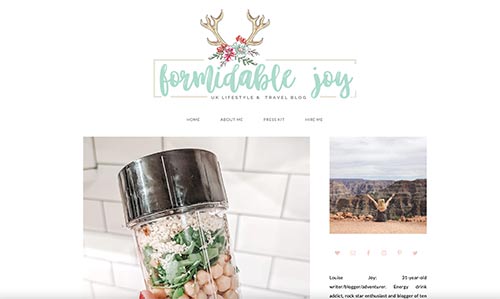 I blog to inspire others! I've always said that if someone watches a movie based on my recommendation and it cheers them up after a bad day or they relate to a personal post I've written, then I'm happy to have made that small change.
–  Louise, Formidable Joy
---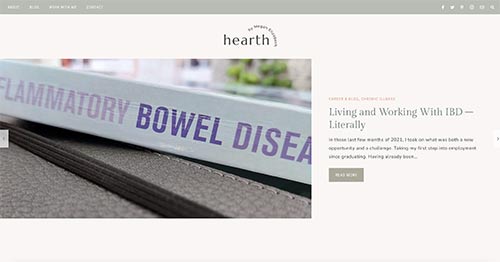 To raise awareness for subjects close to my heart and have a creative outlet for my writing and thoughts.
–  Megan, Megan-Elizabeth
---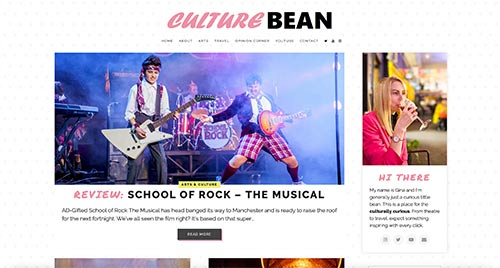 I blog to encourage others to tap into their cultural side. On a personal level, writing gives me focus and challenges me. I'm proud of what I've built and it's a blog I hope others benefit from.
–  Gina, Culture bean
---

I blog to share my random thoughts with the world, but a large reason is to help spread awareness for mental health and show that you can have a happy life while being mentally ill.
–  Holly, The Little Landleg
---
So, we want to know: what's your most significant reason for blogging? Let us know in the comments!
Pin for later: