We're happy to announce that we've created a new free Facebook community for customers, friends & partners of Lyrical Host!
We're always looking at ways we can give you more value, and we know that one of the biggest things that really makes a difference as a blogger or business owner is having support from people who have similar goals to you. So we decided to create a Facebook group to build up the Lyrical Host community and have questions, discussions, and videos that go beyond just hosting and domains.
To celebrate the launch of our new group for bloggers and digital business owners, we've created a collection of free resources for all members.
15 exclusive free stock photos
30 blog post ideas (for any niche!)
18 email header welcome images (several different designs)
1 printable/digital to do list template (in 3 colors)
3 pin templates for Pinterest (just add text!)
…and more. Plus we'll be adding more freebies in the future!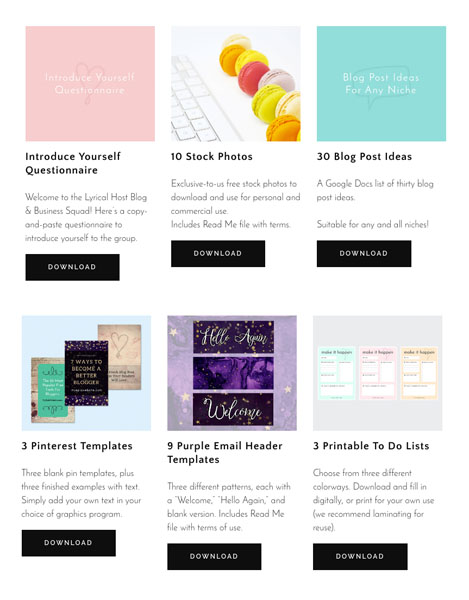 Simply request to join (no questions!), and then read the pinned post in the group to grab the password and link for the Group Portal.
From the Portal you can:
Download your freebies
Follow the interactive story (for even more freebies!) and join Team Mermaid, Team Unicorn, or Team Frog
Submit your website to be reviewed by the group
Host a challenge
And lots more!
We're keeping things pretty relaxed on the rules front, so limited self-promo is allowed, and we'd love for you to get to know some similar bloggers and business owners and really create a sense of community. We love that a lot of you have got to know each other via Twitter, and we want this to be an extension of that.
Join the Lyrical Host Blog & Business Squad!