We're celebrating our birthday with a limited edition Blogging Bundle! Packed with all kinds of handcrafted goodies for bloggers of all experience levels, this pay-what-you-like bundle is only available until September 30, 2018.
Unpacking the Bundle
Here's a complete list of what's inside:
100 Styled Stock Photos – in three different sets: 60 White Background Neutrals, 20 White Background Brights, and 20 Grey Wood Background. These are divided into smaller sets of three, five, and seven images so you have plenty of options for different social media networks. For examples of one image used five different ways, join our Facebook group.
How To Update Older Blog Posts – A handy one page PDF checklist listing every task you need to do to update an older blog post to increase reader value and improve your search engine optimization.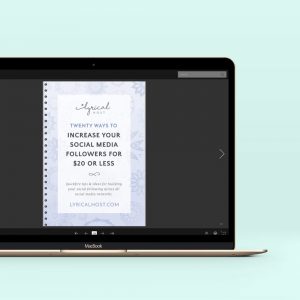 20 Ways To Increase Your Social Media Followers For Under $20 – Provided as both a PDF and a Flipbook, this guide brings together a collection of tried and tested ideas for growing your social following.
Take Your Blog From Good To Great (Mini Video Series) – These three videos cover Stickability, Promotability, and Consistency in blogging, in under five minutes each. Learn more about how to create content people crave, tips for consistent publishing, and how to promote your blog posts with these bitesize videos.
The Practical Blog Stats Tracking Template – If you're not sure what stats to track, or you've been intending to start a tracking spreadsheet, this template is for you! It's self-explanatory, quick to fill out, and includes everything from domain authority to email subscribers so you can see at-a-glance growth month to month.
Bumper List Of 170 Free & Paid Stock Photo Websites – Provided in both PDF and Flipbook forms, this list is great if you're bored of the same old stock photo websites. We've listed 170 of our favorite free and paid sources for stock photos, all of which are an affordable and quick way to lift your blog or website. We've included as many small businesses as possible and loosely categorized the websites so it's easy to find feminine photos, people of color photos, unusual photos, and many others.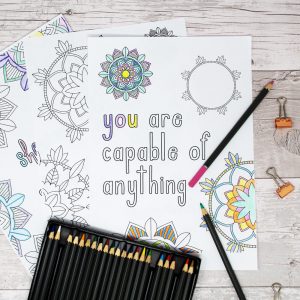 Happy Mandala Printable Coloring Sheets Adult coloring has been popular for a while now, and these sheets can be filled in digitally or printed and colored by hand. There are six different mandala themed coloring pages in total, with three different positivity quotes in two font types.
25 Ideas For Your Next Facebook Live – Stuck for what to say? This PDF/Flipbook has a bunch of suggestions for your next Facebook Live…or you can adapt the ideas for any videos or even blog posts. Suitable for all blogs, businesses, and niches.
Reviews of the Lyrical Host Blogging Bundle
Want to know what other bloggers thought of the bundle? Check out these great in-depth reviews from Jenna (The New £5 Blogging Bundle You Need In Your Life) and Rebecca (Why You Need The Lyrical Blogging Bundle).
Remember, this is only available until the end of September, so don't wait too long – pick your price and grab the bundle!