This is a guest post by Jenna Spinelle. Jenna loves a good story and has spent more a decade telling them as a journalist, marketing professional, and most recently, as a podcaster. She hosts and produces the Democracy Works podcast, a collaboration between the McCourtney Institute for Democracy at Penn State and WPSU Penn State, central Pennsylvania's NPR station. 
It's a new year, and I understand that at least a few members of the Lyrical Host community have a podcast on their list of things to accomplish.

I use Lyrical to host a website for a podcast I host and produce called Democracy Works. I'm also a chapter leader for the Podcast Brunch Club and write articles about podcasting for Podcast Movement (an industry site) and my own newsletter.
In other words, I spend a lot of time thinking about podcasts! I've gone through the process of starting my own and helped colleagues do the same. There's a lot involved, but it's totally doable if you have a road map to guide you. I'm hoping this post can serve as that guide!
Currently reading: Start Your Podcast in 5 (Relatively Easy) Steps
Click To Tweet
01. Decide what you want to say and how you want to say it
I could easily devote an entire post to this, but it seems like many in the Lyrical community already have an idea, so I won't go into it here. Check out this article for more information on how to choose your show's topic. It references organizations, but all of the steps apply to entrepreneurs and business owners, too.
02. Get some gear
While it's technically possible to record a podcast using only your smartphone, I would not recommend doing that — especially if you are planning to use the show to build your business or expand your thought leadership.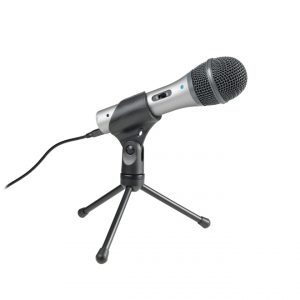 You want your podcast to sound professional, just like every other part of your business. Unfortunately, recording with your phone or other free tools just won't cut it.
I use an ATR-2100 microphone, which you can purchase for about $89 on Amazon. It provides high quality and gives you the flexibility to plug directly into your computer or into an external mixer.
If you are just starting out, you can plug the microphone into your computer and record directly into a program like Audacity (which is free) or Adobe Audition (part of the Creative Suite, which I'm guessing many of you already have). Make sure that you adjust your computer's settings to pull from the external microphone, rather than the default microphone.
You'll also want to record in a place that's relatively quiet and free of echoes. Most major cities have podcasting studios where you can reserve space and receive a little help from an audio professional.
If you plan to have guests on your show, you will need to figure out how you'll be talking with them. You can only record one microphone at a time directly into your computer, so you will need a mixer if you plan to record in-person interviews.
I recommend the Zoom H6, which can accommodate up to four microphones. You will need an XLR cable for each microphone to connect it to the recorder. I recommend wearing headphones while you record so you can hear how everyone sounds and adjust the levels accordingly.
For remote interviews, where you and your guest are not in the same location, I like Zencastr. There's no special software to download, and everyone is automatically recorded on a separate track. You can pay a small fee to have Zencastr combine the tracks for you, or do it on your own in an editing program.
03. Record a few pilot episodes and ask for feedback
The best way to try out all of these steps is to record at least one (but hopefully a few) pilot episodes. You can determine how much you enjoy podcasting and whether you'll be able to fit it in with everything else you do.
Over time, you'll likely find that you feel more comfortable "on the mic" and get faster at recording and editing. We did five pilot episodes of Democracy Works, and I'm really glad we did. We had a solid group of episodes that we shared with a few friends and colleagues for feedback before we published anything.
Once you have something that's ready to share, send it to a few people you know will give you honest feedback. You also need to listen to each episode at least once after you've spent some time away from it. Listening to the sound of your own voice is never fun, but it does get easier over time.
04. Create a launch plan
If your pilot episodes turn out well, you are ready to release your podcast into the world. Like any new project or venture, you need a plan for how you'll spread the word about it and encourage people to listen.
You will need to have a 3000 x 3000 graphic to accompany your show in the podcast apps. Before committing to a design, double and triple check to make sure that the name you want is not already taken by another podcast!
I recommend recording a short (2-3 minute) trailer to give new listeners an overview of what they can expect from your show. This is great for helping people decide whether to subscribe to your show.
In addition to the trailer, you should also plan to launch with at least 2-3 full episodes at once before moving into your regular release schedule. This will create some bingeable content and help establish some solid download numbers early on.
There are more than 800,000 podcasts in Apple's directory. Why should someone choose to listen to yours? How will you communicate about the show to your existing clients and help attract new listeners? Again, I could write a whole other post on promotion and audience growth — and hopefully will sometime soon!
05. Publish your show on podcast apps
One of the most mystifying parts of podcasting is figuring out how to get your content onto Apple, Spotify, and all the other podcast apps. Luckily, there are several hosting companies out there to make things very easy.
I use Blubrry, which offers easy integration with WordPress through its plugin. Other options include Libsyn, Anchor, and Podbean. Each platform offers a different pricing structure and features; do a little research and find the one that will work best for you.
No matter which service you choose, the end result is the same. The hosting company will create an RSS feed, which is what the podcast apps use to display your episodes. All you have to do is upload your audio to the hosting platform, along with your show logo and description, and they'll take care of the rest.
All of the platforms offer tech support and have their own social communities to help new podcasters with common questions. Another great group I recommend checking out is She Podcasts, which is a great space for women podcasters.
Podcasting is a lot of work, but it's also a lot of fun. You get to put your voice out there and have an excuse to contact people you would probably never connect with otherwise. If you are on the fence, you can try it out for a relatively small investment of time and money.
Finally, please don't hesitate to reach out if I can be of help to you in your podcast journey. Happy podcasting!
Found this post useful? Pin it for someone else to discover!